During the first Smart China Expo from Aug 23 to 25 in Chongqing, 62 projects with an investment of 108.103 billion yuan ($26.5 billion) were signed with Liangjiang New Area.
These projects mainly involve big data, smart technology, and the transformation and upgrading of industry to promote the integration of digital and substantial economy.
Nearly half of the projects involve automobiles, electronic information, general aviation, comprehensive health, and other high-end manufacturing industries.
As the largest automobile manufacturing base and the most important intelligent terminal production and import and export base in Chongqing, Liangjiang has a wide range of industries that can serve as a foundation for the intelligent industry and provide market space for industrial development.
With an optimistic outlook on the development potential of Liangjiang, internet magnates such as Tencent, Alibaba, and iFlyteck shifted the focus of their development to Liangjiang and signed agreements to build an innovation center and data center, as well as develop intelligent tourism.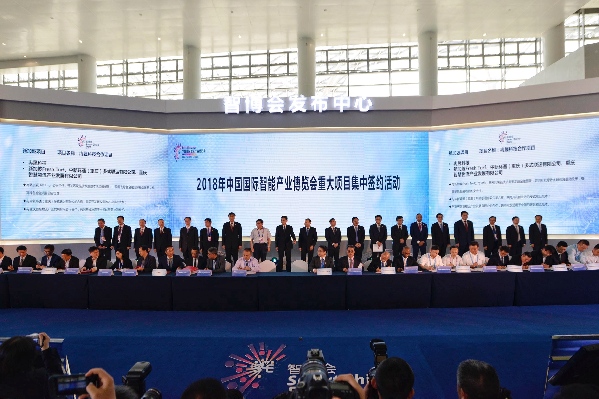 Company representatives and the Chongqing government at the signing ceremony of the Smart China Expo. [Photo/liangjiang.gov.cn]
Meanwhile, the investment of Vimicro signals the further development of the intelligent industry in Liangjiang. According to the strategic cooperation agreement, Vimicro will carry out the R&D and design of NPU (neural-network processing unit) artificial intelligence chips, security monitoring internet of things chips, and information safety chips.
In addition, China Aerospace Science and Technology Corporation will invest 20 billion yuan in the global LEO(low earth-orbiting) satellite mobile communication and space internet system project.
The project is based on LEO satellite broadband and narrowband systems and will provide support for intelligent terminal communications, data acquisition, mobile broadcasting, navigation enhancements, aviation, and navigation monitoring.
From 2010 to 2017, Liangjiang attracted 3,387 projects, with a total investment of over 1 trillion yuan. Liangjiang will take advantage of global industrial transformation to consolidate the development of pillar industries while developing entire industrial chains for manufacturing, modern services, finance, and strategic emerging industries.