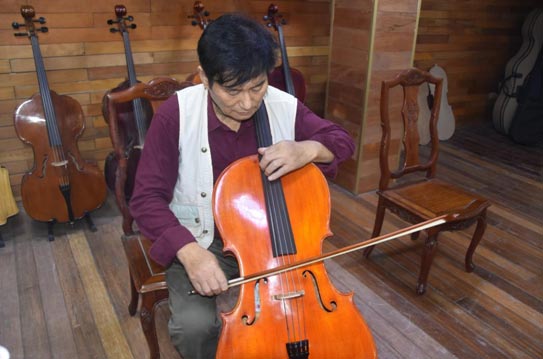 He Xirui plays his handcrafted San-yuan violin. [Photo provided to chinadaily.com.cn]
Difference and failure can often be key motivators inspiring craftsmen to create perfection. And nowhere is this true than for what inspired He Xirui, a 72-year-old master carpenter from Rongchang district in Chongqing.
Working with wood his whole life, He started out producing high-quality traditional Chinese instruments, such as the huqin and pipa, to serve local opera and dance troupes.
He's musical instruments quickly became popular, and eager to ever expand his knowledge and repertoire, in 1979, He sought to make a classical western instrument - the violin. After several months'toil, He's stringed fiddle was complete.
Seeking to find out if his violin was up to scratch, He took it to a professor at the Sichuan Conservatory of Music, eager to hear a professional opinion. He recalls the professor not saying much, and instead, taking out his exquisite European violin to expound the quality difference between the two.
Taking defeat in stride, He set out to best European contemporary violins and create an instrument truly worthy of embodying the "craftsmanship spirit".
"The sound made such a world of difference compared to mine," He said, adding that hearing the two instruments side-by-side gave him the inspiration to make China's most outstanding violin.
He went back to his workshop and set out to change the world. It would take him another 24 years, but He achieved his goal, creating the San-yuan violin, a violin capable of hitting three note ranges, from base and alto to treble.