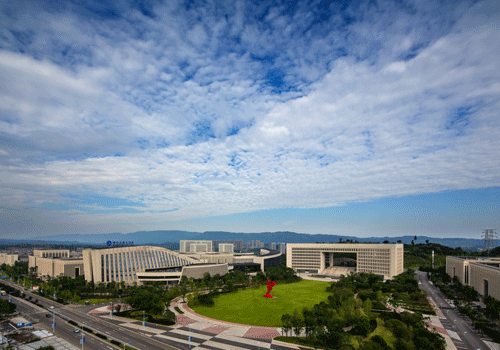 An elevated view of Shuitu High-tech Industrial Development Zone in Liangjiang New Area. [Photo/liangjiang.gov.cn]
The Shuitu High-tech Industrial Development Zone in Liangjiang New Area as a leading investment destination in western China which covers an administration area of 114 square kilometers and is an important component of Liangjiang's trillion-yuan manufacturing base project.
The zone focuses on promoting five major industries including cloud computing, electronic information, robotics and biomedicine, all of which have formed dynamic and competitive strengths in the zone. The zone offers the business sector a large pool of intellectual resources and knowledge-based services through mass data integration, sharing, and cross multiplexing.
The high-tech zone welcomed the settlement of Tencent's first data center in the central and western regions of China in 2015. Data centers from China Unicom, China Telecom, China Mobile, Pacific Telesis, Inspur, and Phicomm have moved to the zone, bringing with them 30.5 billion yuan ($4.4 billion) in investments. The zone will accommodate a total of 815,000 servers upon its completion.
The park has introduced 187 industrial projects over the past five years, involving 126.7 billion yuan in investment. Twenty-two of the projects involve investments of 1 billion yuan or more. It is expected to produce a combined output value of 176.3 billion annually after all of these projects are put into operation.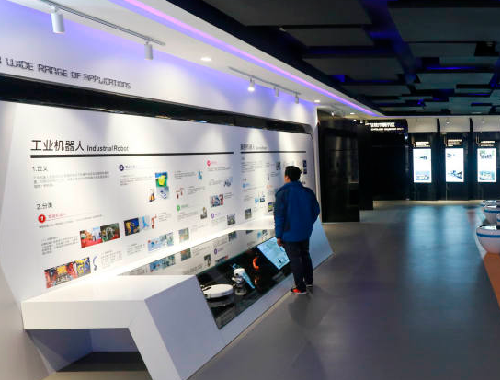 The Liangjiang Robot Exhibition Center located in the Shuitu High-tech Industrial Development Zone gathers dozens of renowned robot enterprises, which draw visitors' attention to a new world of robots. [Photo/liangjiang.gov.cn]
An electro-optic display industrial chain worth 100 billion yuan has been formed with more than 20 panel display projects, including those from BOD Technology, LanBoo, and Pittsburgh Corning. A total of 16 bio-pharmaceutical and medical equipment projects including Haifu Winbond Pharmaceutical and 14 robotics projects, such as Kawasaki Robots and Liangjiang Robot Exhibition Center, have entered the zone. Three innovation and business incubator centers have been built, where start-ups and small and medium-sized enterprises develop with support and high-quality services.
Inspur (Chongqing) Cloud Computing Center officially launched in the zone on Nov 2, 2016, equipped with 6,500 cabinets, capable of supporting the operation of 150,000 servers and making it the largest cloud computing center in Western China.
The Zhongguancun Medical Engineering and Transformation Platform (Chongqing) settled down in the zone on Feb 15 of this year, drawing numerous followers in the pharmaceutical industry to seek cooperation with Liangjiang. In the next three years the center plans to introduce over 100 projects with an annual value of production of 10 billion yuan.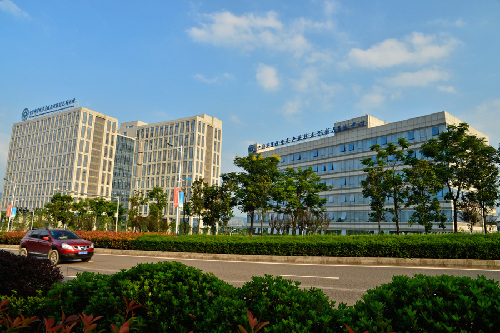 The Zhongguancun Intelligent Research Institute (Chongqing) building stands tall in the Shuitu High-tech Industrial Development Zone of Liangjiang New Area. [Photo/liangjiang.gov.cn]
Edited by Tyler Terrance Oneil