The Chongqing Pilot Free Trade Zone, as one of China's seven newly-approved free trade zones, was officially launched on April 1, bringing Chongqing 60 key projects with total investment of 80.2 billion yuan ($11.6 billion).
Liangjiang New Area is designed to be a core area of the 120-square-kilometer zone, covering an area of 86.3 square kilometers. Liangjiang has signed agreements on 40 key projects with a total value of 63.5 billion yuan accounting for 79 percent of the city's contracts signed during the unveiling ceremony of Chongqing Pilot Free Trade Zone.
Further cooperation agreements Liangjiang has signed focus on high-end industries, including advanced manufacturing, modern financing, and modern service businesses.
Liangjiang New Area signed a contract worth 11 billion yuan to build the Sino-German (Chongqing) Intelligent Manufacturing Industrial Park. It will take six years to construct the park in Liangjiang New Area, which covers an area of 2,348 mu (156.5 hectares). The park will become a key area for intelligent manufacturing and technological innovation, boosting the development of the Belt and Road Initiative and the Yangtze River Economic Belt.
Singapore's leading energy company Sembcorp Industries Group will locate its headquarters in Chongqing. The company will cooperate with Yuelai Group to build Yuelai Smart City with a total investment of up to 5 billion yuan.
Chongqing Free Trade Zone, as a pilot zone for economic reforms, will make it easier to set up new companies, cut restrictions on the flow of capital, and offer more market access for foreign investment. Chongqing will built itself into an inland FTZ featuring a convenient investment and trade environment, efficient supervision, and complete financial services as well as provide a sound legal environment for businesses.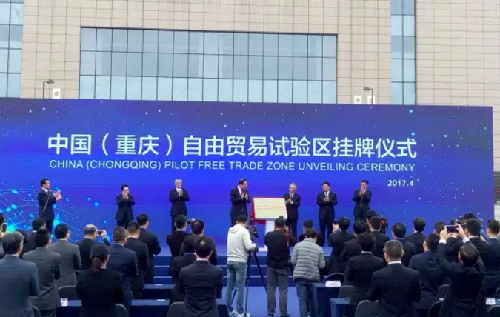 The Chongqing Pilot Free Trade Zone launches on April 1 in Chongqing Municipality, marking a new milestone in the opening-up of western China. [Photo/liangjiang.gov.cn]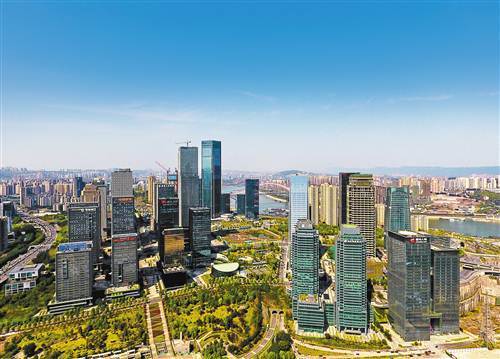 The Jiangbeizui CBD in Liangjiang New Area has over 140 financial companies and is now a landmark in China's finance industry. [Photo/liangjiang.gov.cn]
Edited by James Skinner