The first freight train to service the Yuxinou International Railway, which runs from Chongqing to Europe via Xinjiang, completed its maiden journey in Frankfurt, Germany on Oct 14.
The train was loaded with 26 large postal parcels and 139 packages, which were dispatched to different places in Germany upon their arrival.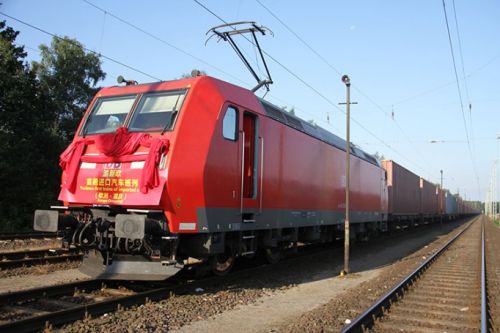 The Yuxinou (Chongqing–Xinjiang–Europe) International Railway, honored as the "modern Silk Road", successfully arrived at the Frankfurt's mail processing center in Germany on Oct 14, with its first passengers–26 postal parcels and 139 packages.
In May, the General Administration of Customs approved Chongqing as a pilot city to carry out rail freight transportation between China and Europe.
Once cargo is cleared and declared by customs officials in Chongqing, it is permitted to pass through countries along its route. To ensure a secure journey and safeguard against the tampering of cargo, data is shared among customs officials along the route.
The opening of the intercontinental railway marks a new mode of international freight transportation and saves as much as 20 days in travel time compared to sea freight. It also reduces the cost of transportation by 80 percent compared to air freight.
Officials expect the railway to boost cross-border e-commerce, strengthen economic and trade exchanges and industrial interconnection between Asian and European countries.
The line passes through six countries and covers more than 11,000 kilometers. It forms part of the backbone of China's One Belt, One Road strategy and aims to increase the amount of trade between China and the rest of the world.
Edited by Jacob Hooson