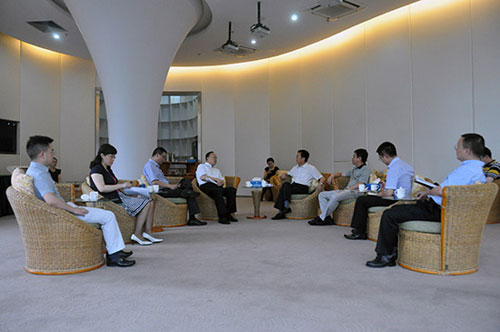 A symposium is held between officials from Peking University and Liangjiang New Area. [Photo/liangjiang.gov.cn]
The Party secretary of Peking University, Zhu Shanlu, visited Liangjiang New Area's planning exhibition gallery in Southwest China's Chongqing municipality on June 29.
As part of the visit, a symposium was held between the delegation from Peking University and the officials from Liangjiang New Area. Issues surrounding talent cultivation and innovation management were discussed at the meeting.
As the first inland state-level new area, Liangjiang has developed its traditional and strategic emerging industries, according to Zeng Jinghua, deputy secretary of the Liangjiang Party working committee. Zeng also pointed out that attracting talent to the area will play a significant role in the future development of Liangjiang and hoped that, alongside Peking University, it could cooperate further in areas of talent cultivation.
"The development mode of Liangjiang New Area has special features and distinctive features," said Zhu. He expressed hope that the Guanghua School of Management at Peking University, which is strong in the field of scientific research, could strengthen the cooperation in human resources management with Liangjiang to jointly promote the transformation of science and technology innovation.
Edited by Jacob Hooson