Car manufacturing in Chongqing has yet to reach top gear, but when it does there may be no limit to sales
At a railway station in Chongqing, dozens of workers are busy loading goods such as cars onto a train of the Chongqing-Xinjiang-Europe Rail that sets out to Europe from China and crosses 11,000 kilometers and six time zones.
Within days of completing their 16-day journey to Duisburg, Germany, which will take in Kazakhstan, Russia, Belarus and Poland, the cars, made in Chongqing or elsewhere, will make their presence felt in Europe.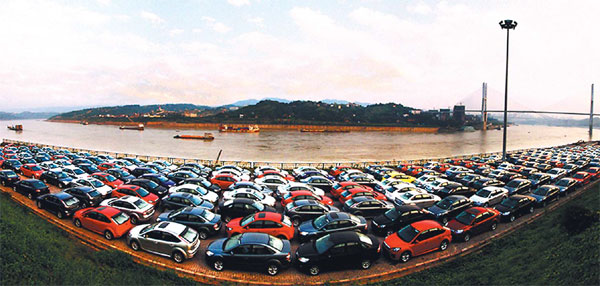 Cars waiting to be shipped at Cuntan Harbor in Chongqing, the largest car manufacturing city in western China, which aims to develop the industry further by tapping the overseas market. Xiong Li / For China Daily
The vehicles' epic journey reflects the ambitions of Chongqing to gain recognition internationally as a car manufacturer.
The city, one of the four municipalities under the central government's direct control, at the confluence of the Yangtze and Jialing rivers, is keen to establish itself as an international motor vehicle manufacturing center.
Chongqing is the largest car manufacturing city in western China and aims to develop the industry further by tapping the overseas market and enhancing its research and development to develop more high-end and green energy vehicles.
In 2013, 2.16 million vehicles rolled off the assembly line in the city. The number of cars produced shot up to more than 2.6 million last year.
The city's GDP was about 1.43 trillion yuan ($230.4 million, 212.6 million euros), 10.9 percent higher than the year before.
Last year the city had a turnover of 400 billion yuan due to the motor vehicle industry, which is reckoned to account for about 28 percent of GDP.
Chongqing's achievements in the industry are evident in the Chongqing Liangjiang New Area, a national-level development zone that covers more than 1,200 square kilometers and with a population of 2.2 million.
The area, which was set up in 2010, has poured a huge amount of efforts into developing the motor vehicle industry, and big companies, such as SAIC-GM-Wuling and Ford, have set up shops here. Last year the zone produced more than half the city's motor vehicles.
Dong Xiaodong, the director of the motor vehicle industry promotion bureau of Liangjiang New Area, says Chongqing is confident about the industry.
"We aim to build up a billion-dollar international car city in Liangjiang New Area by developing our exports and enhancing our research and development. We expect to produce 3.5 million vehicles next year worth 350 billion yuan in Chongqing, and 4.7 million vehicles the following year."
Dong attributes the fast growth of the car industry in Chongqing to its wealth of know-how in automotive research and development.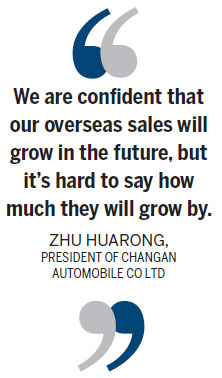 "Some local companies such as Changan and Lifan invest at least 5 percent of their sales revenue in research and development. The government aims to set up more research and development centers in the zone by 2017, and we are sounding out foreign investors including car industry insiders from Italy.
"As the motor vehicle industry continues to grow in the zone, more efforts will be put into growing exports."
Zhu Huarong, president of Changan Automobile Co Ltd, one of the largest domestic car makers, says that though tapping the overseas market is not easy, car makers are confident about succeeding with strong support from the domestic market providing good conditions for developing the industry in Chongqing.
"Chongqing is an ideal base to develop the motor vehicle industry, given that the city has a complete industrial chain for making cars and a big pool of skilled labor, and we are taking three important steps to further tap our overseas sales. First, developing overseas business from less-developed countries and regions before moving to developed areas. Second, producing more green-energy modes and cars that can attract young people, and third, producing more high-end cars."
Last year Changan made a profit of 3.5 billion yuan, more than 110 percent higher than in 2013, and overseas markets accounted for 5 percent of the company's revenue.
"We are confident that our overseas sales will grow in the future, but it's hard to say how much they will grow by," Zhu says.
He also says that at the moment Changan's major overseas markets are Africa and Southeast Asia.
"We plan to expand into developed countries and make mid- and high-end cars."
Yin Mingshan, president of Chongqing Lifan Group, one of the largest domestic car and motorcycle makers in China, says overseas sales are important to the company.
"When Lifan was set up, we decided to focus mostly on the domestic market. But we realized that we faced formidable competition in the domestic market from big foreign brands and large State-owned companies. We decided to focus on overseas markets, as that offers higher profit margins even though there are stiffer challenges.
"The international market, especially Europe and the US, is hugely significant for us. However, it is more difficult for us to sell our cars in developed regions such as Europe than in Africa. Still, we will work very hard to boost our sales there to gain more brand recognition globally."
Lifan says it is now in more than 160 countries and regions including Europe, the US, Southeast Asia and Africa, and works with more than 140 dealers.
The company has done many things to establish its presence overseas, with most of its strategies centering on localization, including local hiring and production. In Africa, most of the company's products are made from heat-resistant materials to combat the hot weather, Yin says.
Huang Chunsun, 43, general manager of SGMW Automobile Co Ltd Chongqing branch, says that for him, working in Chongqing is an adventure.
He came to Chongqing to set up SGMW's operations in the city in 2012.
"The goal was to finish building the factory within 15 months, but that was difficult because Chongqing's topography is not conducive to easy construction.
"In the place where we decided to build there were small hills that needed to be got rid of. It was like the foolish old man of legend wanting to move a mountain. Frequent rain also delayed the work.
"Because of the pressure of time, our management team lived on the construction site with all the other workers. In fact it was so stressful that my hair went gray.
"The local government gave us tremendous support for the building work, including facilitating planning procedures. I cried when the first car rolled off the production line, and many of our employees did, too.
"In these conditions it really is a miracle that we finished constructing a building covering 2,200 mu (1.5 square kilometers) within 15 months. We could not have done that without local government backing."
Overcoming all those challenges has been well and truly worth it, Huang says.
"Chongqing has a comprehensive motor vehicle components industry, and our businesses in Liuzhou, Guangxi Zhuang autonomous region, and Qingdao, Shandong province, source their components from suppliers in Chongqing."
Setting up the Chongqing base was also in line with the central government's "Go West" strategy, Huang says.
SGMW now has four manufacturing sites nationwide.
"By locating in Chongqing, we have been able to tap the market in Southwest China, where there is huge potential for the car industry."
Huang says that as the Chongqing motor vehicle industry has grown his company has prospered.
It produced its first vehicle in Chongqing in September. In the first quarter of this year the company made 38,300 vehicles.
"We expect to make 210,000 vehicles in Chongqing this year, and we hope to be able to produce about 800,000 vehicles when the second phase of the production line opens."
Huang says the logistics capabilities of Chongqing are a great asset to the motor vehicle industry, particularly as it looks to increase its exports.
"Besides road transport, Chongqing can also increase international sales through its international rail links, such as the Chongqing-Xinjiang-Europe Rail.
"At the moment we export few vehicles from here, but we are highly confident about the domestic market, and reckon that will help us to tap the overseas market. The international railway that connects Chongqing with the rest of the world is helping us build our international business, too."
Contact the writers through huhaiyan@chinadaily.com.cn
(China Daily Africa Weekly 04/10/2015 page21)