Sanmenxia declares to promote wildlife protection
( chinadaily.com.cn )
Updated: 2016-12-14
As the host city of the First China (Sanmenxia) White Swan Wildlife International Photography Festival, Sanmenxia is promoting wildlife protection awareness.
Photographers from home and abroad, working members from China's Photography Association and local top officials gathered in Wenbo Theatre to publicize Sanmenxia's Declaration of International Natural Ecology Photographers, giving a voice to the voiceless.
The declaration, focusing on promoting a harmonious relationship between nature and humans with the help of top level animal-inspired photography, was read out by Chen Jianwei, vice chairman of the China Wildlife Conservation Association.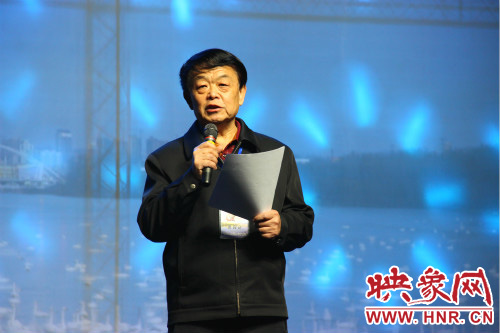 Chen Jianwei, vice chairman of the China Wildlife Conservation Association, reads out the declaration. [Photo/hnr.cn]
The declaration made an appeal to the masses to pay more attention to fate of wildlife and to take a more active role to protect the environment.
"Human beings are one of the creatures living on this beautiful planet. Among the colorful natural ecological systems, wild animals play an indispensable role. Our fate has been linked together with wild animals' breath."
Sanmenxia has been recognized for playing a positive role in environment preservation and animal protection. "Sanmenxia is also called Swan City. In this city, citizens welcome swans and are friendly to them. There are many moving stories about photographers and swans. Here, we feel the harmonious atmosphere between man and wild animals."
"We believe, with higher attention from the government and more active participation from the public, wild animals will become our intimate friends in the future."
The declaration concluded with, "We solemnly promise that every natural ecology photographer of us will contribute to the construction of an ecological civilization in China, and devote ourselves to wildlife protection in the world!"
Afterward, photographers from foreign countries such as Canada, Norway and Finland signed their names on a promotion board to express their support for wildlife protection.
Photographers from foreign countries sign their names on a promotion board to show their support. [Photo/hnr.cn]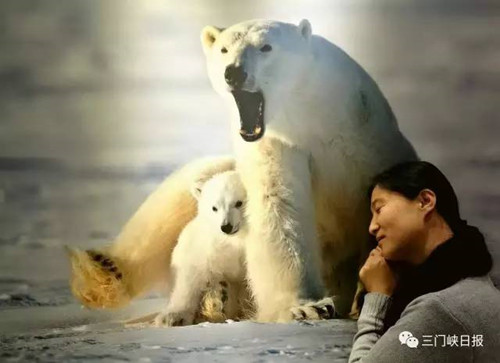 A woman poses for photo in front of a photograph exhibited at Sanmenxia's Wenbo Exhibition Center.[Photo/Sanmenxia Daily]