Youth soccer tournament kicks off
2015-07-11
来源:China Daily
作者:Zhuan Ti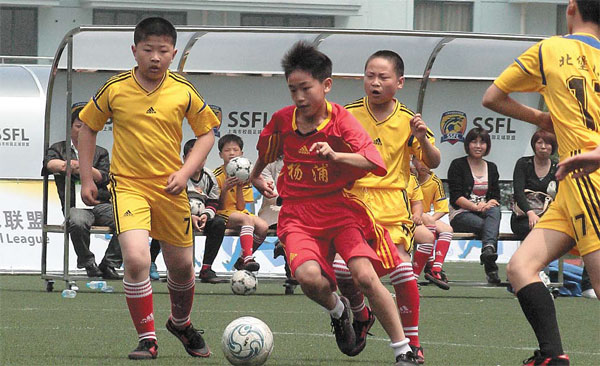 Soccer is becoming increasingly popular with schools in Shanghai. Provided to China Daily
Shanghai event aims to promote sport and foreign relations, Zhuan Ti reports.
The 2015 China (Shanghai) International Youth Football Tournament kicks off on Saturday, with an aim to connect young soccer teams from around the world and promote the development of youth soccer in China.
A total of 12 teams, with eight from abroad, will participate in the weeklong tournament. The foreign teams include a German youth soccer club from Frankfurt, Spain's Escola Esportiva Guineueta club, Cameroun's Yaounde 1-APEJES Academy and Australia's South Melbourne Football Club.
The four domestic teams are from Shanghai, Fujian province and the Inner Mongolia autonomous region.
The event was co-organized by the Shanghai Municipal Education Commission, Shanghai Sports Bureau, Shanghai Federation of Returned Overseas Chinese, China School Sports Federation and Shanghai Overseas Chinese Foundation.
Most of the soccer players taking part were born in 1997, with a few born after 2000. Many of the young soccer players have never visited China before.
The tournament opening ceremony is taking place at Weiyu High School in Shanghai and is expected to attract 2,000 guests, while the final competition, which is scheduled to be held in the Yuanshen Sports Center Stadium on July 17, is expected to draw an audience of more than 10,000.
Sun Wen, former FIFA Female Player of the Century, was appointed promotion ambassador for the soccer tournament.