'White Swan Tourist Season' opens in Sanmenxia
( chinadaily.com.cn )
Updated: 2015-12-02
The 2015 Sanmenxia White Swan Tourist Season was inaugurated in Sanmenxia, Henan province, on Nov 29.
The ceremony was co-organized by the city's tourism administration and the Self-driving Travel Association of Henan province. Hundreds of tourists gathered at the event, including media outlets and travel agency representatives from neighboring cities.
This year's tourist season is themed around the lifestyle of migratory white swans. Tourists visiting the city will be able to enjoy custom-made routes featuring the Swan Lake Wetland National Park, local hot springs, skiing resorts and local specialties.
"With local ecological environment improving on a daily basis, Sanmenxia has seen a growing number of migratory swans in recent years. It is a strong stimulus to boost the development of the tourism industry in the city," said Li Qinghong, vice-mayor of Sanmenxia, during the inauguration ceremony.
Thanks to efforts made by the local government, Sanmenxia is considered to be home to the largest number of migratory swans coming to China from Siberia and Mongolia every winter. The swans, thousands of them at peak numbers, attract a similar number of tourists each year.
This year's white swan tourist season is forecast to last until the Spring Festival holiday, which comes to an end on Feb 15, 2016. The Self-driving Travel Association will also update the route for self-driving tourists on its website.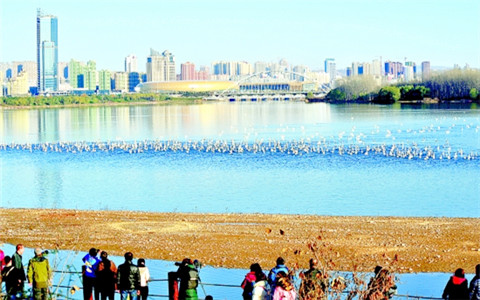 Tourists observe swans at the Swan Lake Wetland National Park in Sanmenxia, Henan province. [Photo by Zhao Yibang/smx.gov.cn]