Think tank brings blueprint for Yinchuan
(chinadaily.com.cn)
Updated: 2015-09-14
At a summit meeting on China's "One Belt, One Road" program and China-Arab Development in the city of Yinchuan, Ningxia region, on Sept 9, there were scholars and experts from China and abroad on hand to discuss Yinchuan's opening-up and development with the focus on soft power, competition, and geographical advantages of the Silk Road.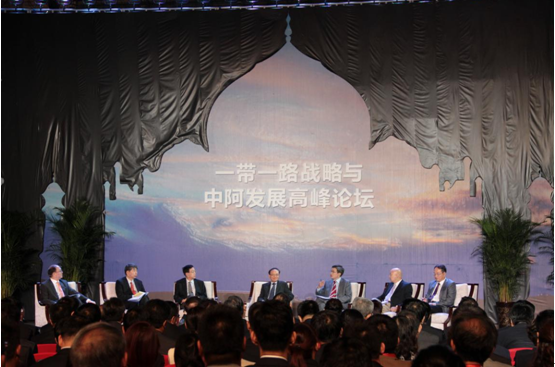 Summit on China-Arab states Yinchuan International Convention Center, in Yinchuan, Ningxia, on Sept 9. [Photo provided to China Daily]
Yinchuan is important for Sino-Arab cooperation in Ningxia, ands a trial area for inland-foreign-oriented trade in China, with its eye on opportunities in Arab countries and the Muslim world and plans to build an online Silk Road to boost exchanges in culture, investment, finance and industrial development.
Bai Shangcheng, Yinchuan's mayor, told the gathering at the city's International Convention Center, about how the "Belt and Road" strategy and the city's own competitiveness offering opportunities for growth and said the city needs to advertise its beautiful landscape, history, cultural heritage, and good ecology with the help of the China-Arab States Expo.
Bai said that the city needs to reform and innovate and increase exchanges with Arab countries in business and culture and that its projects in recent years, such as the Yue Hai Wan Central Business District, Binhe New Area, and Bonded Area, will play a key role in cooperation with Arab states in trade, finance and culture and promote the city's inland-foreign-oriented economic trial zone.
He went on to say that Yinchuan also wants to contribute more to the national Silk Road strategy and expand its global presence as a modern international ecological friendly city.
Taking part in the discussions were Wei Jianguo, former deputy commerce minister and vice-chairman of the China Center for International Economic Exchanges; Gong Jianzhong, a former Chinese ambassador to Ghana and vice-chairman of China Public Diplomacy Association; Major General Zhu Chenghu, a professor at the National Defense University; and specialists from Chinese institutes and universities.