North Central China 'Online Silk Road' Expo focuses on cloud computing
(chinadaily.com.cn)
Updated: 2015-09-14
An Online Silk Road and Cloud Computing Technology and Applications Exhibition opened at the Yinchuan International Conference Hall, in the city of Yinchuan, Ningxia region, on Sept 10, to display China's latest cloud computing technology and Ningxia's move toward informationization to accelerate the pace of construction of an Online Silk Road stretching to Arabic nations.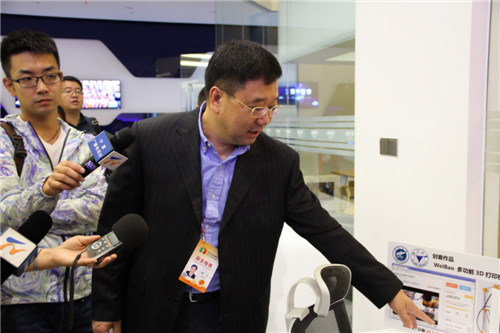 Staff introducing a product for journalists at the Yinchuan exhibition. [Photo provided to China Daily]
The exhibition occupied an 8,000-square-meter space and had the major Chinese telecoms operators -- China Mobile, China Unicom and China Telecom's Ningxia branch -- and their communications technology and solutions on the first floor, according to Zhang Li, director of the region's information management.
A major part of the exhibition was the second floor, with films and experiential devices, mainly information technology and applications for online sites for public service and urban management, as well as e-commerce in rural areas.
Foreign and domestic enterprises had their latest technology for the Internet, information service, and e-commerce on the third floor, and local company IT applications in online trading, cross-border e-commerce and Internet-oriented innovations were on the fourth.
There were 27 enterprises from China and abroad, including Huawei, Alibaba and PowerVisions, as well as companies from Ningxia taking part in the exhibition.