Yinchuan a vital cog in belt and road plan
(China Daily)
Updated: 2015-09-09
Series of measures set to boost city's strength, foreign exchanges
Ningxia Hui autonomous region vowed to build itself into an important window for China's opening-up, especially to Arab states and the Muslim world, to help build the Silk Road Economic Belt and 21st Century Maritime Silk Road.
President Xi Jinping proposed the Belt and Road Initiative in 2013 with the purpose of rejuvenating the two ancient trade routes.
Implementation of the initiative requires Ningxia to play on its advantages and accelerate the establishment of an inland, foreign-oriented economic trial zone. It is expected to act as a trade and logistics hub and base for pillar industries and cultural communication toward central, southern and western Asian countries.
Amid this historical opportunity, the local government is focusing on four aspects of development in the autonomous region and one of them is its openness. The regional capital, Yinchuan, is taking a lead in further opening-up, said Xu Guangguo, Party chief of the city.
Yinchuan boasts geological and economic importance in the autonomous region. It is an important part of the ancient Silk Road, the permanent host of the China-Arab States Expo and the core area of Ningxia inland foreign-oriented economic trial zone. Therefore, implementation of the Belt and Road Initiative is of great significance to the development of Yinchuan, said Xu, who is also a member of the Standing Committee of the CPC Ningxia Hui autonomous region committee.
"One of our working priorities is to develop finance, headquarter economies and the conference and exhibition industry in the Yuehaiwan Central Business District by taking advantage of being home to the China-Arab States Expo to increase the city's internationalization," Xu said.
Transportation improvement is another focus for the city.
"We actively communicated with coastal and inland areas to link with the ports in Shenzhen, Zhengzhou and Erenhot, and to cooperate with ports in Qingdao and Tianjin," Xu said.
Flights from Yinchuan to Dubai, Bangkok, Seoul, Taipei and Kazakhstan have begun operations in recent years. Flights via Yinchuan from Central and west China to Arab states are, on average, about five hours shorter than going via other cities like Beijing, Shanghai and Guangzhou.
The city has a development foundation for the IT industry, is home to many Arabic-speaking graduates and a popular place to set up large data centers due to its cheap electricity and favorable climate.
"A cross-border online trade pilot has been put into operation to promote service outsourcing and e-commerce toward Arab states," Xu said.
The city government has also planned an international science and education city in Binhe New Area to attract Arab colleges and universities. It plans to build a healthcare city by introducing advanced medical teams from South Korea and Serbia.
Based on the city's comprehensive tax-free zone, Yinchuan plans to establish a commercial and industrial park to attract funds, technology and projects from Arab states and to facilitate their trade and investments with Chinese companies. The Yuehaiwan Central Business District will also be developed into a new platform for financial cooperation between the two sides.
The city plans to improve its investment environment by reducing administrative approval procedures. "We set up a related service bureau and a city hall to help investors, companies and the public," Xu said.
Yinchuan has witnessed tremendous economic and social progress since China's reform and opening-up in the late 1970s, but its economy is still underdeveloped.
"Light and heavy industries are developing in an unbalanced way in Yinchuan. To solve the problem, we plan to build an ecological textile park to help reduce the proportion of light and heavy industries from 83:17 to 70:30 and to form an industry chain ranging from coal to coal chemicals and modern textiles," Xu said.
"We will highlight the development of emerging and high-end industries, such as big data, e-commerce, general aviation and headquarter economy to upgrade the city's industrial structure," he added.
Yinchuan has rich natural resources, but its ecological environment is fragile. "We have included rivers, lakes, wetlands and forests into a list of permanent protection resources by legislation to protect the local environment. We also built the Binhe New Area to expand the development space of the city," Xu said.
Living in an economically underdeveloped area, residents in Yinchuan are most concerned about how to increase their income and narrow the gap with the developed areas.
"We have issued plans to help increase the income and made more efforts to increase the employment rate and launched some preferential policies for college students to start new businesses," Xu said.
"Yinchuan now faces multiple development opportunities, and I believe the city will have stronger industrial strength and become more open, harmonious and people-oriented," he added.
Contact the writers through haonan@chinadaily.com.cn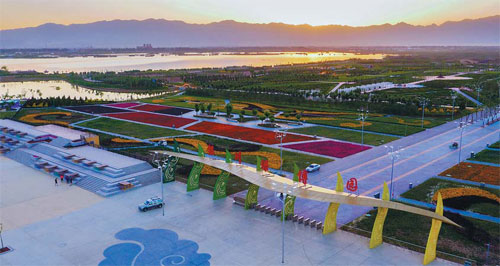 A view of the Yinchuan Re-Greening Park, where the re-greening expo, part of the China-Arab States Expo, will be held. Provided to China Daily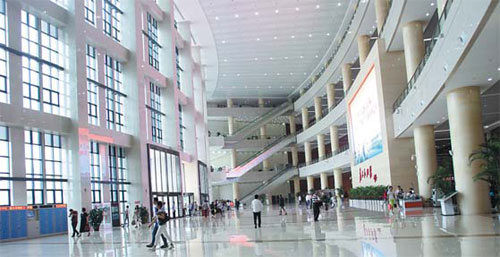 The public hall in Yinchuan, which is designed to improve administrative services and to help investors, companies and the public. Zou Hong / China Daily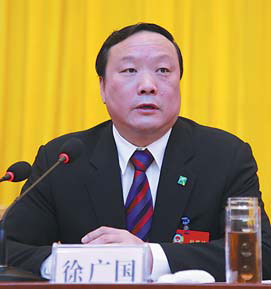 Xu Guangguo, Party chief of Yinchuan