The history of the Square Kilometer Array
Updated: 2011-09-15 07:45
(China Daily)
| | | | | | | | | | | |
| --- | --- | --- | --- | --- | --- | --- | --- | --- | --- | --- |
|   | | Comments() | | Print | | Mail | | Large Medium  Small | 分享按钮 | 0 |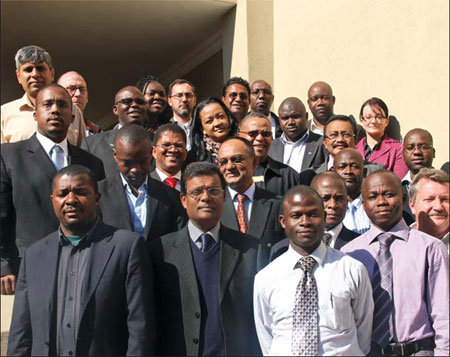 Meeting of African Partner Countries in Pretoria, June 2011 Photos Provided to China Daily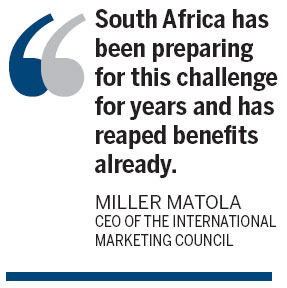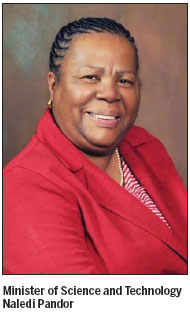 Home of clear skies and little pollution, South Africa is a forerunner in space technology
Science and technology in South Africa have taken an impressive leap forward over the past decade, particularly in astronomy-related fields. This is due, in no small part, to government efforts to secure the development of the Square Kilometer Array (SKA) project for South Africa.
When completed, the 3,000-dish Square Kilometer Array will feature the world's biggest radio telescope, and will be between 50 and 100 times more sensitive than any other radio telescope in existence.
Dishes in the SKA will be spread over 3,000 kilometers but will work together as one instrument, allowing astronomers to listen to electromagnetic radiation which travels at a fixed speed of about 1.08 billion kilometers/hour.
The SKA is a global collaboration of 20 countries that are aiming to provide answers to fundamental questions about the origin and evolution of the universe.
With a budget of 1.5 billion euro, construction of the SKA is scheduled to begin in 2016 for initial observations by 2019 and full operation by 2024.
At present, such high-powered tools are not available and the SKA will play a key role in furthering our understanding of the Milky Way and neighboring galaxies.
The success of the project depends on widespread cooperation. Some 70 institutions and 20 countries are now involved in the project.
While Australia is competing with South Africa to host the SKA, both countries are collaborating on the development of radio telescopes, called pathfinders, which will contribute to the technology needed.
In May 2008, the preparatory phase of the SKA was launched with 5.5 million euro ($7.9 million) in funding committed by the European Union. This preparatory phase finalized a detailed technical design and developed SKA's governance and legal framework.
In April, South Africa and eight other countries: Australia, China, France, Germany, Italy, the Netherlands, New Zealand, and the United Kingdom - signed a letter of intent, agreeing to work together to secure funding for the SKA and committing themselves to the project. Australia and South Africa trumped both Argentina and Chile who were ruled out as potential host nations
"Though the host country will only be decided in 2012, with construction likely to be completed by 2022, South Africa has been preparing for this challenge for years, and has reaped considerable benefit already," says Miller Matola, CEO of the International Marketing Council (IMC).
"The SKA is already driving technology development in hi-tech areas such as antennae, fiber networks, signal processing, software and computing in South Africa, and will also benefit other systems which process large volumes of data."
A wealth of experience
The SKA bid is not South Africa's first experience of advanced astronomical technology, as clear skies and relatively little pollution mean the country has always been a favorable location for space observation.
In 2005, the largest single optical telescope in the southern hemisphere, the Southern African Large Telescope, known as SALT, was inaugurated near Sutherland in the Karoo.
More recently, a precursor to SKA known as MeerKAT (Karoo Array Telescope) is being built near Carnavon in the Karoo.
A seven-dish demonstrator project, called KAT-7, has been operational since last year. Work on MeerKAT's design, development and construction began in 2004.
Once completed, the 80-dish MeerKAT will be one of the most powerful instruments in the world, and demonstrates South Africa has the technical competence to build SKA.
Local researchers are already accessing a 10.4-million-euro ultra-high-speed broadband link between SALT, MeerKAT, and the South Africa National Research Network in Cape Town.
The proposed 10 gigabyte per second fiber-optic link demonstrates that South Africa can provide the bandwidth SKA would require and gives researchers near real-time access to the data collected by SALT and MeerKAT.
In order to support the SKA development, both as a potential host nation and as a collaborating partner to the overall project, South Africa launched the South African National Space Agency (SANSA) in December 2010 to oversee all of the country's space exploration programs and will work on the SKA bid, which will integrate existing science and technology institutions.
It will help develop a formal space program and will promote research in areas of astronomy, earth observation, communications, navigation, and space physics, while also developing skills in these areas.
Since 2005, local training and skills development in astronomy-related subjects has received a major boost through support from SANSA. Students in physics, astronomy, engineering and ICT have received 263 grants through government programs. The SKA is expected to provide practical work opportunities for these students and enhance uptake in science training programs.
Global support
Last year, South Africa beat 20 other countries to host the International Astronomical Union's Office for Astronomy Development, which promotes astronomy in developing countries and manages astronomy education.
Minister of Science and Technology Naledi Pandor hailed the announcement as an opportunity to boost African astronomy and the economy through education and job creation.
In addition, the African Union has endorsed South Africa's bid, saying that it will help drive human capital development on the continent and boost its move to a knowledge-based economy.
The African bid for the SKA, though headed by South Africa, also involves Botswana, Mozambique, Namibia, Zambia, Kenya, Madagascar, Mauritius and Ghana.
"This collaboration is proof that regional integration and regional advancement is a reality," said Matola.
Though the success of South Africa's SKA bid will only be known in 2012, it is clear that, if successful, the country - and the continent - will reap benefits far beyond a deeper knowledge of our galaxy and universe. The sky may not be the limit after all.
(China Daily 09/15/2011 page6)