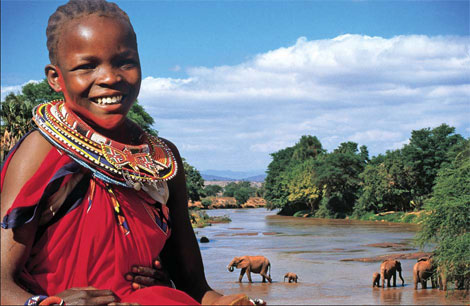 Kenya boasts World Heritage status and an incredible cultural history.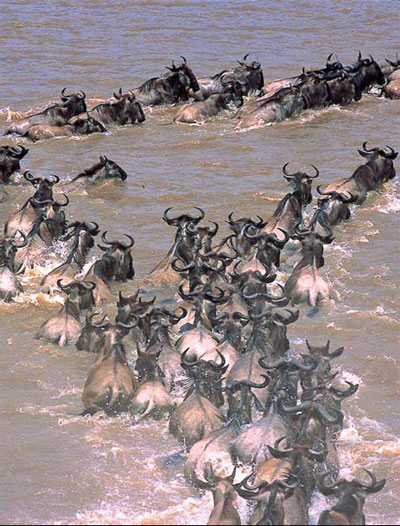 The famous wildebeest migration crosses Kenya's Masai Mara region.
Revenues soar as travelers marvel at range of wildlife
Recognized as one of the world's leading tourism destinations for animal lovers, Kenya is setting the benchmark for wildlife and safari tourism as it showcases its precious species to the world and chases investors hungry to take advantage of business opportunities.
Home to a vast array of animals such as lions, elephants and giraffes, Kenya has put together an ambitious strategic development plan for the tourism sector that will treble annual earnings through a series of initiatives and programs.
With the help of the private sector, industry officials are confident this goal can be achieved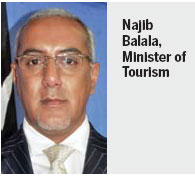 through the boosting of tourism numbers from 1.8 million a year, to 3 million a year, while also increasing the tourist's average spending.
This follows a surge in international visitors between 2002 and 2007, when earnings more than tripled from $282 million to $851 million.
"Tourism has been a major revenue earner for Kenya for many years and the sector is one of the six economic pillars that will drive the economy forward and help us achieve our annual 10 percent economic growth target," says Minister of State for Planning, National Development and Vision 2030 Wycliffe Oparanya.
Statistics from the 2008 Economic Survey show international tourist arrivals soared from just over one million in 2002 to more than 1.8 million in 2007.
Attractions
Blessed with a unique and diverse landscape comprising gorgeous savannahs, tropical beaches and the stunning Lake Victoria, Kenya has boasted world heritage-status sites and a rich cultural history.
Popular with visitors of all ages and nationalities, Kenya's natural beauty and stunning wildlife means the tourism industry generates more than a tenth of the nation's total gross domestic product and provides jobs to thousands, while being a rich source of tax revenues.
Thousands of travelers from all over the globe arrive in the country each week by air with the international airport in the capital, Nairobi, served by dozens of top foreign airlines with direct connections to major cities worldwide.
In addition, the bustling port city of Mombasa is a popular stop-off point for cruise liners that provide local people with a key source of income as they sell their home made goods and wares.
According to a forecast from the World Trade Organization, international tourist arrivals are expected to top 1.6 billion by 2020, of which 378 million will be long-haul travelers.
It is against this backdrop that Kenya's tourism sector is strategically positioning itself in the short, medium, and long-term as it looks to tap into the global tourism market and maximize its potential and associated revenues.
But the sector is not without its problems and needs to overcome a series of hurdles and challenges in order to meet its Vision 2030 goals. Key infrastructure such as roads, railways and hotels need to be built if Kenya is to make progress, with these major projects featured in the tourism sector plan.
In a bold move aimed at boosting room capacity and attracting fresh foreign direct investment, the Kenyan government has given the green light to the building of flagship projects that include the construction of three resort cities aimed at enhancing the visitors' overall experience and set the standard for future hotel developments.
New resort cities planned
The first resort will be located at Isiolo close to Mount Kenya and Meru National Park. The second, at Kilifi, will have 7,000 beds and focus on families and high-income tourists, and the third, at Diani, will have 4,000 beds and focus on Kenya's diverse cultures.
Other innovative ideas contained in the comprehensive tourism plan include the development of niche products like eco-tourism products and tours, cultural tourism activities focused on the country's 42 indigenous cultures and colorful festivals, sports and water-based tourism holidays along the coast, and cruise tourism featuring the development of a modern cruise terminal and steamboat service on Lake Victoria to serve a planned new five-star lake resort.
The plan calls for the development of facilities run by international hotel chains, health spas, exhibition galleries at museums, business conference facilities, plus the creation of a golf city and national music center in Nairobi.
Given the dynamic nature of the sector, major legal, institutional, and regulatory reforms will be required to ensure the smooth implementation of the programs, with building works closely monitored in order to limit their environmental impact.
"In pursuit of the Vision 2030 goals, the tourism sector will implement various strategies and programs in order to attract investment that will improve tourism facilities and raise the quality of hospitality services in Kenya," Oparanya said.