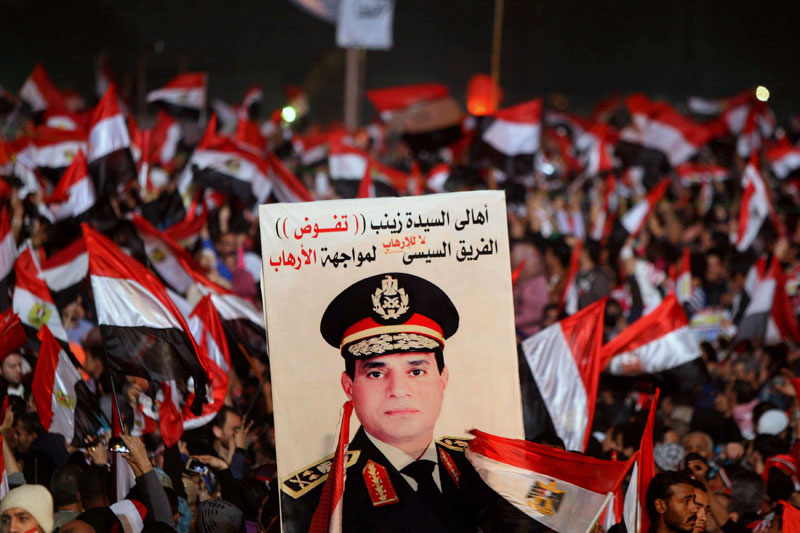 Supporters of Egypt's army chief General Abdel Fattah al-Sisi holds a poster of Sisi in Tahrir square in Cairo, on the third anniversary of Egypt's uprising, Jan 25, 2014. Twenty-nine people were killed during anti-government marches on Saturday while thousands rallied in support of the army-led authorities, underlining Egypt's volatile political fissures three years after the fall of autocrat president Hosni Mubarak. Security forces lobbed teargas and some fired automatic weapons in the air to try to prevent demonstrators opposed to the government reaching Tahrir Square, the symbolic heart of the 2011 uprising that toppled the former air force commander. [Photo/Agencies]
CAIRO - At least 29 people were killed and 167 others injured on Saturday during clashes between supporters of ousted Islamist president Mohamed Morsi and security forces in different parts of the country, the health ministry's media spokesman said in a statement.
"The victims were killed in the governorates of Cairo, Giza, Alexandria and Menia," Ahmed Kamel said in the statement, noting the injured were from the said governorates in addition to Fayoum, Ismailia, Assiut and Beni Sweif.
Meanwhile, two blasts targeting police premises hit Cairo and Suez governorate on Saturday, killing a little child and injuring nine people.
Amid tight security measures, thousands of Egyptians took to streets across the country on Saturday to mark the third anniversary of the Jan 25 uprising that toppled president Hosni Mubarak in 2011.
Meanwhile, the police fired tear gas and birdshots to disperse several pro-Morsi marches led by the Muslim Brotherhood, currently blacklisted by the interim government as a "terrorist group".
Earlier in the day, several Brotherhood supporters were injured and dozens others were arrested.
On Friday, a string of explosions rocked Cairo, killing six people and wounding about 100 others, while some 15 people were killed in clashes between security forces and pro-Morsi protesters nationwide.