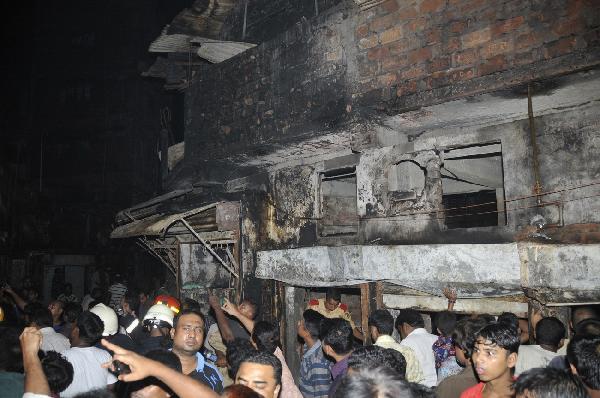 Local residents and fire fighters work at the scene of a devastating fire in Dhaka, capital of Bangladesh, early June 4, 2010. [Xinhua]
A devastating fire that raced through a number of residential complexes on Thursday night in Bangladesh' s capital Dhaka killed 109 people, mostly women and children, and injured at least 40 others.
The fire is said to break out in a chemical factory in the old Dhaka city at about 9:20 p.m. Thursday local time. The fire soon spread to at least five houses in the congested residential area, trapping hundreds of residents in the densely populated area.
The fire was started by an explosion in an electrical transformer and then spread to residential and commercial buildings, witnesses said.
The firefighters rushed to the spot soon and managed to bring the fire under control after it raged for more than three hours.
Shahidullah said rescue operation is still on and they are hopeful to call off the operation within half an hour.
This was the second deadly disaster to strike the capital in 72 hours after a five-story building collapsed on Tuesday night, killing 25 people.