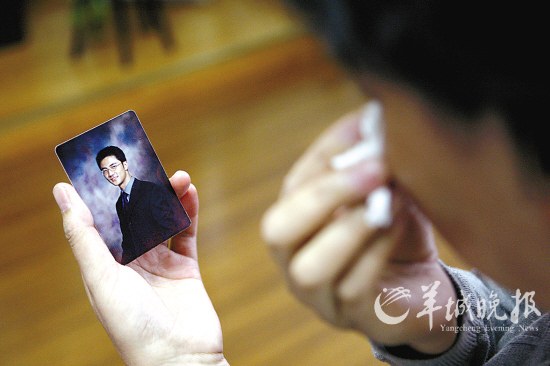 Zhai Tiantian's mother, Wang Xiaojun, sheds tears while she looks at a photo of her son on Saturday at her home in Xi'an, Shaanxi province. [Yangcheng Evening News]
XI'AN - "I will never believe that my son was a terrorist," said Zhai Taishan, who flew to Beijing from Xi'an, Shaanxi province, on Monday night trying to seek help for his son, who is accused of being a terrorist in the United States. They are seeking help from the Ministry of Foreign Affairs.
Zhai's son, Zhai Tiantian, was a Chinese graduate student at the Stevens Institute of Technology in Hoboken, New Jersey, before he was arrested by police on April 16. He has been accused of trying to set fire to a campus building and of making threats to one of his professors with whom he had a disagreement.
Zhai Tiantian is being held in the Hudson County jail in New York state.
Zhai, 27, was born in Xi'an and went to study in the US in 2003.
Zhai Tiantian's mother, Wang Xiaojun, said she received a phone call at her home in Xi'an from one of her son's schoolmates early on May 10, who told her that her son was in jail.
On April 15, Zhai Tiantian had a verbal dispute with his professor, whose name has yet to be identified, over his academic work, but no physical altercation took place, according to a female Taiwanese schoolmate, surnamed Wang. The professor thought that Zhai said some threatening things to him and he reported Zhai to the school's authorities, saying that Zhai posed a potential threat to the institute.
Wang said:"Zhai Tiantian was a bit brash in his quarrel with the professor. But Zhai told me that he absolutely did not say anything about setting fire to the school."
According to Wang, Zhai is a good student who maintains good relations with his fellow students. They like this young and smart Chinese student, she said, adding she does not understand how he could be considered a "terrorist".
Zhai Taishan said his wife and he could not believe the bad news after receiving the phone call from the US and they have tried to contact many friends in the US to confirm it.
"We felt so disappointed and sad when we got the confirmation from the report of the US China Press (a Chinese newspaper published in the US)," Zhai Taishan told China Daily on Monday.
The US China Press reported on May 20 that Zhai Tiantian said something about getting revenge against his professor, and the professor later called the campus police. They arrested Zhai Tiantian and turned him over to the New Jersey police. Zhai is currently being held in jail and is unable to raise the $20,000 bail.
According to the indictment, Zhai Tiantian is facing the charge of "terrorism". The police also alleged that he was attempting to set fire to the campus. However, Zhai Tiantian denied that he had any plans to commit arson and that he had ever mentioned such an idea to anyone.
On the day of the incident, Stevens Institute of Technology immediately canceled Zhai's student visa. The following day, the Immigration and Naturalization Services (INS) ordered his arrest. On the third day, INS issued a deportation order.
Zhai Tiantian's lawyer, Hai Ming, told the US China Press that America is a nation with freedom of speech. Therefore, people cannot be convicted on the basis of what they think or say. Zhai's case is being mishandled, he said.
Zhai Tiantian has a government-appointed lawyer for the criminal charge and Hai Ming is handling the immigration case. The outcome of the criminal case will ultimately determine whether Zhai will be sent back to China. If convicted, He might not be allowed to stay in the US.
The lawyer said that before the dispute, Zhai Tiantian expressed dissatisfaction with the institute in a TV interview in which he said he wanted to sue the school for racial discrimination.
"This is probably the real reason why the school is dealing with him this way," Hai said.
Luo Gang, the overseas Chinese affairs consul with the Chinese Consulate-General in New York, said he has handled similar cases in which Chinese students had verbal clashes with others. "Chinese and American cultures are different, so what the Chinese regard as acceptable remarks may be deemed by Americans as threats. This is an unfortunate incident. We don't want to see that. The case is in the judicial phase and we can only hope the lawyers will be able to help him."
One of Zhai Tiantian's middle school classmates, surnamed Liu, called Xi'an-based Huashang Daily from Canada on Sunday expressing his concern, saying that he will never believe that Zhai Tiantian was a terrorist.
"I have known him since middle school and he was one of the best students in the school," Liu said.
Zhang Xingfan, vice-president of Shaanxi Chamber of Commerce in the US, made a phone call to Zhai Taishan on Sunday after learning the news, saying he would be happy to provide assistance to the family.
"We were shocked by the news and will pay attention to the progress of the case. As fellow Shaanxi people, we will offer any possible help to the student," Zhang said.