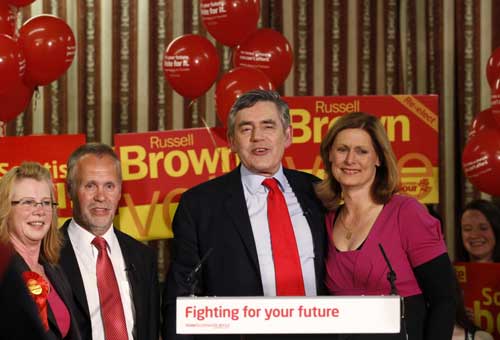 Britain's Prime Minister Gordon Brown (C) is joined by his wife Sarah after he gave his final campaign speech to Labour Party supporters in Dumfries, Scotland May 5, 2010. The voting of the British general elections will start at 7 am local time on Thursday. [Agencies]
LONDON - British people went to polls on Thursday morning as up to 50,000 polling stations across the country opened for ballots.
Polling stations are open from 7 am local time (0600 GMT) to 10 pm (2100 GMT) on Thursday, and preliminary results will be out in the early hours of Friday.
Over 44 million voters are registered to vote to elect 650 members of parliament from 650 constituencies. The new parliament will be summoned to meet on May 18, when the first business will be the election of the Speaker and the swearing-in of members.