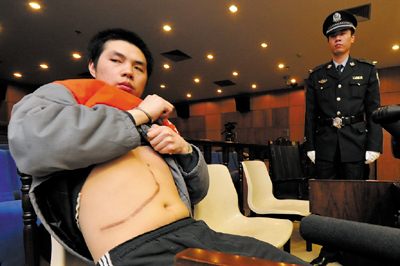 Organ trafficking middleman Liu Qiangshen sits in the court showing his side scar left after a liver transplantation operation. [Beijing Morning Post]
Barely coming of age and lacking money, 19-year-old Yang Nian sold almost two thirds of his liver, for which a Beijing patient in urgent need of organ transplant paid 150,000 yuan ($21,900).
But the money only ended up in the hands of organ trafficking middleman Liu Qiangsheng, who assembled a score of hatchet men to beat up a scarred Yang when he came to claim his liver fees. Yang got a mingy 25,000 yuan ($3,660), not the promised dole of 35,000 yuan ($5,130), the Beijing Morning Post reported Thursday.
The stomach-turning report details Yang's wait for a suitable buyer in a slum along with other reluctant donors in central Hebei province as well as his physical checkup and identity forgery in order to pass for a legal organ supplier for the Beijing patient
The Beijing patient, at first unwitting of Yang's pathetic compensation, was also threatened by the middleman if he dared refuse further payment out of previous bargain.
"We only learned later that the middleman Liu just gave Yang that little, we are very angry, but we are also very scared and could do nothing," said the patient's wife. The couple paid a huge sum to the middleman, only with borrowed money.
The case, still under investigation, shed light on a rampant organ trafficking market reigned by unscrupulous middlemen, intertwined with hospitals sometimes, who rake in the organ donation dearth in China where for every 150 patients in the waiting line of organ transplant there is only one legal donor.
The black organ market is so organized that it runs like an assembly line. The middlemen draw together a group of illegal donors, mostly male, offering food and board before ushering them through a series of medical examinations to kick out the unhealthy and the unprofitable, like those with AB blood, accounting only 5 percent of the general population. The middlemen even help to bribe doctors and secure a better hospital, not to mention the cheap identity fabrication as in Yang's case, since organ donation by a living individual should be among relatives in China.
While, for the most part of the job, it is waiting, sometimes endlessly, for a suitable buyer. That's why most middlemen choose to foster a large donator group, increasing the chance of medical matches, and larger profits.
In Thursday's news report, a middleman in eastern Jiangsu, surnamed Wang, bragged how he fostered 190 underground donors in the past two years and successfully channeled over 30 transplant cases. Another in northeastern Shenyang assured that he could secure an organ donation in three days, and could even offer an extra donor as a backup.
So far the only organ donation regulation in China is a toothless bylaw which forbids, rather than criminalizes, organ trafficking as illegal business operations. Legal specialists said the punishment doesn't fit the crime.