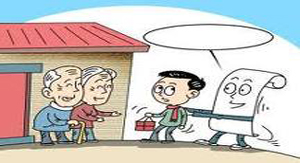 It violates personal liberty.
"It is impossible to enforce compulsory visits to elderly family members because it violates personal liberty. It would be better to strengthen moral education than to force people to do something legally,"said Qian Jun, a Beijing-based lawyer.
The effect of law may be weakened.
"The effect of the law may be weakened if it cannot be effectively implemented. Many adult children who work outside their hometowns actually have little chance to go back home and visit their parents because they have engrossing jobs and very few holidays," said Wang Shichuan, a news analyst.
The law is impractical when it comes to punishment.
"It is hard to quantify whether a person offers more emotional care to his or her parents than previously," said Guo Zizhong, a legal expert at the Rights Protection Center for the Aged of the Beijing Gonghen law firm. "It's not possible for a law to set down the rules for punishing those who do not break a law, but who do not show enough filial obedience."