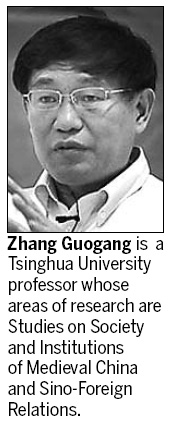 Editor's note: From the experience of Matteo Ricci, we can see that civilizations should coexist with each other peacefully without any one being imposed on another.
The history of exchange between ancient China and the West cannot be complete without mentioning the contributions of Marco Polo (1254-1324) and Matteo Ricci, SJ (Li Madou, 1552-1610). If Marco Polo, a merchant from Venice, introduced China to Europeans and left them a magic and rich Orient, then Matteo Ricci was the "cultural icon" who introduced Western science to China, married Chinese cultural and spiritual values to Catholicism, and established cultural communication and collaboration between the East and the West.
This year is the fourth death centenary of Ricci, who was buried in Beijing on the orders of Emperor Wanli of the Ming Dynasty (1368-1644) for his contributions to China's science, cartography, mathematics and philosophy.
The Pope praised the Jesuit thus: "Ricci dedicated long years of his life to weaving a profound dialogue between the West and the East working incisively to root the Gospel in the culture of the great people of China. Even today, his example remains a model of fruitful encounter between European and Chinese civilizations."
Why has Ricci enjoyed such a high reputation in China and Europe both? "Ricci mapped out the policy of the Catholic mission in China - the policy of cultural accommodation, which is 'when in Rome, do as the Romans do'," says Zhang Guogang, a Tsinghua University professor whose areas of research are Studies on Society and Institutions of Medieval China and Sino-Foreign Relations.
"Ricci's cultural accommodation approach is essentially a line of thinking and attitude that, with genuine humility, shows respect to Chinese people and culture", Zhang says. "Thanks to this attitude he could be accepted by officials and scholars, and deepen his understanding of China and gradually develop a set of feasible behavioral patterns for missionaries coming to the Middle Kingdom."