When, in the 1960s, I started to talk about "paper recycling" to my students, I was seen as a Don Quixote by my peers.
Recycling was so costly at the time that it wasn't worth it. It took 25 years before people became used to the reality of recycling paper. Through the decades, recycling efforts have been made around the globe. "Green" has become a common adjective when talking about industrial production as well as food production.
Despite their high prices, "green" light bulbs or energy-saving bulbs have become accepted and popular. In China, they now light millions of Chinese households. But suddenly and recently, it's come to light that these bulbs can cause a high level of mercury pollution.
Still, governments and producers have not come up with measures to cope with the pollution. Only in Guangdong province, the government has subsidized rates to promote the use of eight million of these green bulbs. It's urgent that a practical and effective system be established to recycle such a massive amount of bulbs.
If the used bulbs are not recycled, said Liu Hong, an expert in energy research, "more than 117 million tons of water will be polluted" in Guangzhou alone this year. According to Liu's statistics, a single energy-saving bulb contains 0.5 mg of mercury, enough to pollute 180 tons of water. If the used bulbs are buried, the soil will be contaminated as well.
But the manufacturing of these bulbs is also a poisonous process. On May 3, 2009, the Sunday Times printed a story called " 'Green' light bulbs poison workers". The article was posted by Michael Sheridan from Foshan, a city in southeastern China.
Sheridan wrote that "when British consumers are compelled to buy energy-efficient light bulbs from 2012, they will save up to five million tons of carbon dioxide a year from being pumped into the atmosphere," but the price to pay for that is a huge number of Chinese workers poisoned by mercury, as China supplies two-thirds of the compact fluorescent bulbs sold in Britain, adding that "an industry that promotes itself as a friend of the Earth depends on highly toxic mercury."
Public concern has risen about mercury poisoning. Dozens of workers interviewed anonymously have given detailed accounts of medical tests that found they had dangerous levels of the toxin in their urine. One test found 68 out of 72 workers were so badly poisoned that they required hospitalization.
In Jinzhou, Central China, 121 out of 123 employees had excessive mercury levels, up to 150 times the accepted standard. And so it goes in Anyang, in Shanghai, and at the Guizhou cinnabar mine, the main source of mercury, where workers inhaled toxic dust and fumes as the material seethed in primitive cauldrons to extract the mercury, with no one wearing a mask or protective clothing.
On Aug 18, 2009, Kate Kelly, author of a six-volume history of medicine, wrote that the United States Congress had passed a bill that provided for the phasing out of all incandescent light bulbs by 2014 (100-watt bulbs cannot be used after 2012). The alternative compact fluorescent light bulbs are said to be 75 percent more energy efficient and are promoted as longer-lasting than incandescent bulbs.
However, the move is more complex than consumers might realize because all fluorescent bulbs - the classical officestyle long tubes as well as the new spiral bulbs for households - contain mercury. While the mercury content in each bulb is quite small, it still requires protective measures when a bulb is accidently broken.
The room must be ventilated immediately and everyone should leave the room for 15 minutes to avoid breathing the mercury vapors. A vacuum should not be used and the broken pieces should be picked up by hand (or broom) and sealed in a plastic bag. Many municipalities specify that this waste should be taken to a hazardous waste dump rather than being thrown in the regular trash.
All the bulbs that are not recycled but thrown in the trash and dumped into local landfill ultimately become polluters. With the rain, mercury seeps into the water supply, exposing both animals and humans to more mercury in the environment.
As it is not easy to save the goat and the cabbage in the same operation. It is urgent that a recycling system is set for energy-saving mercury bulbs. In 2008, experts reported only 2 percent of all the "green" bulbs were being recycled. While waiting for a fully efficient recycling system, used bulbs should be kept in a proper disposal place.
If not, says Govi Rao, chairman of Lighting Sciences Group, we will be responsible for the "mutation of the human race by poisoning our environment with mercury." In the United States, Ikea and Home Depot have started offering locations to dispose of used bulbs.
It's high time China attached importance to poisoning "green lights".
The author is a Canadian scholar in Beijing.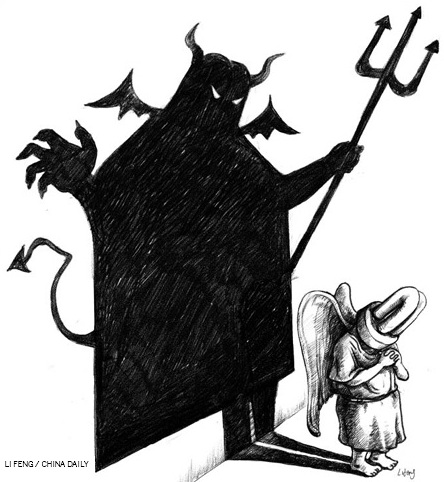 (China Daily 03/11/2010 page10)