Besides prudence, the Standing Committee of the National People's Congress (NPC) should demonstrate a sense of urgency in reviewing and approving the proposed revisions to the state secret law that is nearly 22 years old.
The 1988 legislation needs an immediate reshuffle. It is a poorly conceived work of jurisprudence because it allows state organs and their functionaries virtually unlimited authority in defining and maintaining so-called "state secrets".
Related readings:


 NPC to discuss revision of villagers' committee law


 Entrepreneur removed from NPC deputy post


 Climate change on the agenda of NPC
Under the current law's definition of a "state secret", official establishments and their staff can easily stick that label to everything they want to hide from the public.
Even township officials can classify information in the name of the state. Such information, once classified, can be withheld forever.
Each of these major defects will, to a degree, be modified in the proposed revisions, which is why we are anxious to see them pass legislative scrutiny.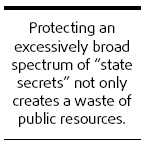 What has been tabled at the NPC Standing Committee is a simple package to address some technical details. Behind it is a substantial change to lawmaking philosophies.
More than two decades ago, those drafting a law similar to this hardly needed to think beyond the law's own purpose. In this case, it was nothing more than protecting whatever those in power wanted to label as "state secrets". There was little concern about the people's right to know.
Of course, classified information should not be accessible to everybody. But the existing law turns out to be a bad one exactly because it shows little, if none at all, respect for that essential civil right our Constitution bestows to every citizen of the People's Republic.
The proposed revisions deserve our best wishes because they carry the jurisprudential ideal to introduce some kind of balance between the state's need for secrecy and the public's right to be properly informed about state affairs.
Since ancient times, Chinese bureaucrats have shared an intense dislike for the person on the street discussing or caring too much about state affairs. While some information does deserve to be concealed for national interests, the veil of secrecy has obviously been abused.
For those fond of secrecy, a cover can serve multiple purposes. It can either cover incompetence, governance failures, or fraudulence.
Therefore, protecting an excessively broad spectrum of "state secrets" not only creates a waste of public resources. In many cases, it erects protection for corruption carried out in the name of the state that in turn erodes the authorities' own credibility.
The proposed revisions have not solved all of the identified problems. The definition of "state secrets", for instance, has not done away with the vagueness that permits abuse. But the ideas of limiting the ability of authorities of various institutions to classify information and imposing time limits on classified information are good ones that may make immediate differences.
As to the pivotal question of what qualifies as "state secrets", we believe a more inclusive discourse will be far more meaningful.
(China Daily 02/26/2010 page8)