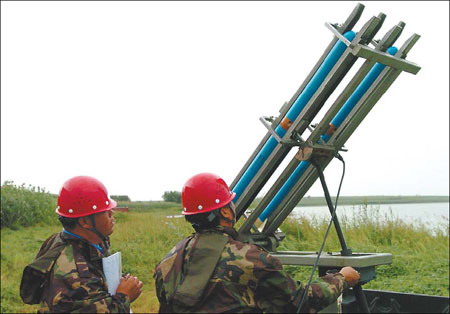 Workers prepare to fire rockets containing special chemicals at clouds and create rain to ease the drought in Changchun, Jilin province last week. [Photo by Qi Haishan/China Daily] 
China's top legislature, for the first time in its history, is specifically addressing climate change with the review of a draft resolution, after hearing a report on the growing environmental problem Monday.
Ni Yuefeng, a vice-chairman of the National People's Congress (NPC) environmental and resources protection committee, said the resolution shows the NPC is taking the issue seriously. The details of the resolution are expected to be on the agenda today.
The resolution will pave the way for future environmental legislation, Yang Fuqiang, director of global climate change solutions at environmental group WWF, told China Daily Monday.
"The involvement of the legislative body in climate change issues will help facilitate government actions to combat global warming," he said.
China is determined to be a country that is a leader in the global growing emphasis on environmentalism, top climate official Xie Zhenhua said Monday.
Related readings:


 China mulls draft resolution on climate change


 China to push for successful world climate conference


 China, US expand consensus on climate change at S&ED


 US eyes greater Sino-US co-op against climate change

 China committed to fighting climate change, says Blair
Countries that stick to their own "political and commercial interests" have led to the stalemate in the ongoing international climate talks, Xie said in a report delivered to the Standing Committee of National People's Congress Monday.
"Developed and developing countries are still the two major factions and the focus of disagreement remains on each country's proportion of responsibility for emission reduction, funding and technology transfer," Xie, vice-director of National Development and Reform Commission (NDRC), was quoted by Xinhua as saying.
The industrialized countries widely emphasize climate problems while downplaying the importance of economic development, and highlight common responsibilities but ignore different responsibilities, Xie said in the Xinhua report.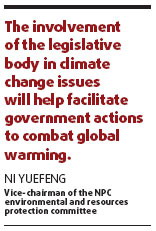 "They have talked a lot, but have not done a lot," he said.
But China has recognized fighting global warming as its internal drive for sustainable development, and will include the climate change strategy in its economic and social development plans, Xie said. 
The country will make great efforts toward developing a "green economy," building low-carbon projects and assessing economic performance by how much less carbon was emitted per unit of GDP growth, according to Xie.
Jiang Kejun, a researcher at the Energy Research Institute affiliated with NDRC, told China Daily the country is designing a set of guidelines for a low-carbon economy.