Has the Tort Law adopted by the Standing Committee of the National People's Congress over the weekend established the principle of victims getting the same amount of payments in compensation regardless of their identity as rural or urban residents?
It is none other than an over-interpretation or over-simplified conclusion of the new clause in the law. It stipulates that deaths caused by the same infringement on their rights can be given the same payments in compensation. It further states that it only applies to victims of major traffic and mine accidents.
The stipulation in a judicial interpretation on compensation for death or injuries caused by infringement on rights adopted in 2004 specifies that such compensation should be based on the local urban residents' average disposable income in the previous year or that of rural residents, and such sum shall be paid over 20 years to the family of a victim.
That is where the question of the same lives getting different payment in compensation for deaths or injuries comes from. It is also where the new article in the Tort Law was based.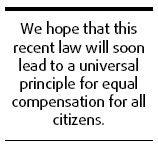 This new article has provided that victims of major traffic and mine accidents are entitled to get same amount in compensation regardless of whether they are from rural or urban areas.
Yet, the new article is far from a universal principle for equal compensation for rural and urban residents. Not only is the former judicial interpretation still in effect, the new article itself explicitly specifies that it only applies to victims of major traffic and mine accidents.
In other types of accidents or infringements of rights, compensation differs for urban and rural victims due to the higher disposable income in urban areas compared to rural areas.
As commonly known, it is the emphasis on industrial development over decades that has created a long-standing income disparity between rural and urban residents. The unreasonable dual system has denied rural residents almost all kinds of welfare that their urban counterparts have enjoyed in the past decades.
Despite efforts by the central and local governments to increase the income of rural residents, the rate of income increase for rural residents is much lower than that of their urban counterparts. Hence the gap between the rural and urban residents is widening. In such circumstances, the issue of compensation becomes sensitive.
Everybody is supposed to be equal after their death but the widening income gap and the unreasonable rules on compensation has made it unequal for rural and urban citizens when it comes to compensation for their death caused by accidents.
It may take a long time to bridge the income gap between rural and urban residents. But it should never take as much time for the authority to match equality in compensation for every concerned citizen.
We hope that this recent law will soon lead to a universal principle for equal compensation for all citizens.
(China Daily 12/29/2009 page8)