Tang Fuzhen, a 47-year-old woman resident of Chengdu, died 16 days after setting herself ablaze in a confrontation with chengguan officers who wanted to demolish her allegedly illicit home.
But we do not expect much sympathy from local authorities because the incident has been defined as "resisting law-enforcement by means of violence". For that, several of Tang's relatives were injured or remain in police custody.
Related readings:


 Chengguan cuts rewards for posters


 Over 100 graduates work as chengguan in Anhui


 Chengguan beaten by gang
Accounts from the authorities have focused on the violent way Tang and her relatives deterred demolition. Reportedly with bricks and burning bottled gas, they frustrated the first attempt in April. The same was said to have occurred on November 13 when determined chengguan people tried again.
Testimonials from the Tang family contradict the official stories, claiming chengguan demolishers were the first to resort to violence.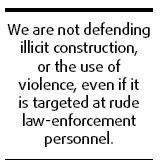 There is a need for disinterested third-party investigation to find out the whole picture. But given legal validity considerations, we can only hope the local judiciary is faithful only to the truth in their probes. We would suggest particular attention to the specifics regarding the demolishers' conduct.
We are not defending illicit construction, or the use of violence, even if it is targeted at rude law-enforcement personnel. Although real estate developers and local governments have become ready targets of public indignation in forced evacuation cases, we know they are not always the bad guys, or at least not as bad as people tend to believe.
But this is not the first case where a defenseless citizen sacrificed his or her life in protest against forced evacuation. It is time the authorities asked themselves a question: Do such conflicts have to lead to such tragic endings?
We know there are cases where evacuees have taken advantage of the authorities' latest emphasis on harmony to extort unreasonably high compensations. The certification of illicit buildings itself is a tricky matter. And public opinion may at some points be too biased against the authorities, especially when chengguan staffers are involved.
Yet one simple question for everyone: Why have Tang and those like her chosen to go to the extreme?
On the surface, this is a question about how illicit buildings should be handled, or how forced evacuation, if necessary and legitimate, should be carried out.
Behind it is a more complex question that has thus far been neglected. That is the definition and disposal of property rights.
(China Daily 12/08/2009 page8)