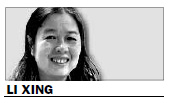 China Central Television (CCTV) is currently running a series of short profiles of heroes and heroines on its nightly newscast.
Aired during CCTV's peak viewership period, the profiles portray men and women who gave their lives to help found the People's Republic or who made extraordinary sacrifices to improve Chinese society. Many of them are classic Good Samaritans.
Some, like Lei Feng, the 22-year-old soldier known for being always ready to help others in need, are household names.
He led his squad to assist passengers with heavy luggage and clean waiting halls at a local train station during Spring Festival holidays, the peak travel season.
Lei's work was recognized by Chairman Mao Zedong, who called for all Chinese to "learn from Lei Feng."
Others, like Liu Yulian, whose story was broadcast on Monday, are less well-known. For 41 years Liu, a 58-year-old doctor, has cared for more than 1,000 residents of Hami, a remote village in the Xinjiang Uygur autonomous region, most of them Uygurs.
Three college freshmen from Changjiang University have also won national acclaim for giving their lives while rescuing two younger boys from drowning in the Yangtze River in Jingzhou, Hubei province.
All this is obviously intended to encourage Good Samaritans and promote a harmonious society. Sadly, the message is blunted by the news of several cases of entrapment by law enforcement officials in Shanghai and elsewhere.
The case of van driver Sun Zhongjie, 19 and from Henan province, drew national attention earlier this month. Around 7:30 pm on Oct 14, Sun was hailed by a man pleading for a ride. Seeing that the man was lightly dressed and was shivering in the cold, Sun allowed him to get in.
But after driving for a few minutes, Sun was forced to stop by two cars from the local transport authority. He was charged with operating an illegal cab service and his van was confiscated. He appealed, but the authorities denied that he had been entrapped and maintained the charges against him.
Desperate to prove his innocence, Sun cut off his little finger to draw attention to his case, setting off a series of official investigations.
The resulting revelation that the traffic police used "improper means" to collect evidence comes as no surprise because quite a few victims have come forward with stories similar to Sun's.
In one case, a driver surnamed Zhang was stopped by a pedestrian who claimed to be suffering from a severe stomach ache. Zhang turned the man away at first, but eventually gave in because the man appeared to be seriously ill.
During the short drive, Zhang twice declined the man's offer to pay. When Zhang stopped at a turn, the passenger snatched his car key.
The police swooped in, dragged Zhang out of his car, and charged him with operating an illegal taxi service. Zhang had to pay 30,000 yuan to get his car back.
An investigation revealed that police had paid people to act as bait and entrap drivers like Sun and Zhang.
On Monday, the local government cleared Zhang's name and apologized to Sun.
The damage had already been done, however. Incidents like these discourage Good Samaritans and severely undermine public trust in law enforcement.
Worse, they erode the moral and ethical codes on which our society has relied for millennia and which form the basis for a harmonious society.
Far from encouraging Good Samaritans, such incidents cause people to look away when they are asked for assistance. Who will emulate heroes like Lei Feng when they fear that their kind-heartedness will be cause for prosecution?
lixing@chinadaily.com.cn