So it was the cheng guan authorities who lied. And, the popular suspicion of their use of "baits" in law enforcement is confirmed.
The government of the Pudong New Area in Shanghai declared the previous statement by cheng guan officials, which denied the existence of the alleged baits, as "casually perfunctory," inconsistent with facts, and "misleading."
The "passenger" involved in the Oct 14 incident, which resulted in a kind-hearted driver having his vehicle confiscated and uproar over local authorities' use of baits in their campaign against unlicensed taxi service providers, turns out to be a "professional bait" who colluded with the cheng guan officers to frame innocent drivers. Investigators found in official archives that he had done the very same mischief before.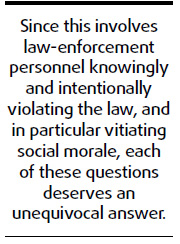 Related readings:


 Shanghai confirms driver's entrapment claim


 Never too old: More seniors filing for divorce in Shanghai


 Shanghai eyes free exchange of yuan, New Taiwan dollar
The Pudong government has apologized, and promised a thorough investigation of the resulting liabilities. We wonder how thorough it will be. Since even sources with the Pudong government confess that the existence of a bait in the Oct 14 incident was not an isolated case, we believe there will be a substantial difference between presenting the victim driver a satisfactory solution and undertaking a truly thorough clean-up of the cheng guan squads.
By the way, also on Monday, when the Pudong government announced its own findings, the Minhang district of Shanghai confirmed that cheng guan officers there used "improper means" to collect evidence in a strikingly similar case.
Some portray the use of baits as "common" in the local campaign to regulate the taxi service market. Is that the truth? How common is it? Are we, as some have warned, seeing the only tip of an iceberg?
It is a serious allegation that hiring and playing baits has become an underground "industry," and that some cheng guan officers pay baits for their services and then receive kickbacks from them. Is there any truth in it? If yes, how rampant is the dubious practice?
Since this involves law-enforcement personnel knowingly and intentionally violating the law, and in particular vitiating social morale, each of these questions deserves an unequivocal answer.
Such questions must be answered also because they involve the legitimacy of an extension of urban administration in China - cheng guan. As an ambiguously defined part of the law-enforcement arm of Chinese cities, such agencies are associated with alleged civil rights violations. The improper behavior the cheng guan authorities in Shanghai have displayed is fresh evidence that cheng guan has scarred the government.
It might be a pity if the stories of baits end without a serious review of the cheng guan system.
(China Daily 10/28/2009 page8)