At a time when shamelessness is pervasive, we are often at loss as to who can be trusted. The five most trustworthy groups, according to a survey by the Research Center of the Xiaokang Magazine, are farmers, religious workers, sex workers, soldiers and students.
A list like this is at the same time surprising and embarrassing. The sex business is illegal and thus underground in this country. The sex workers' unexpected prominence on this list of honor, based on an online poll of more than 3,000 people, is indeed unusual.
It took the pollsters aback that people like scientists and teachers were ranked way below, and government functionaries, too, scored hardly better.
Yet given the constant feed of scandals involving the country's elite, this is not bad at all. At least they have not slid into the least credible category, which consists of real estate developers, secretaries, agents, entertainers and directors.
What is more worrisome in the findings is the dramatic drop in government credibility ratings. Which happens in the context of what pollsters term as "mild improvement" in public perception of society's credit conditions.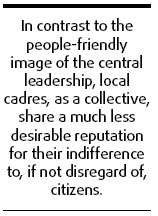 In spite of a continuous, though very slow, tilt to the positive in the public's perception of society's credit records, researchers detected a converse trend when it came to the government.
More than 91 per cent of the respondents admitted that they would take government data with a pinch of salt. The same proportion was 79 per cent in 2007. The steep decline, pollsters concluded, reflects a "quite severe" drain of government credibility, which is obvious in recent "mass incidents". In most recent cases of mass protests, distrust of local authorities turned out to be a powerful amplifier of public indignation.
Multiple factors may be responsible for this. The Xiaokang Magazine Research Center named four - protectionism, unstable policies, dumb decisions, and lack of transparency. All of which has to do with the low-level bureaucracy's lack of respect for public concerns.
This may sound strange, because, geographically, local governments and their staff are closer to local realities; and, politically, they are there to take care of the citizens' day-to-day concerns.
But since local cadres report only to their superiors, and their appointment, promotion and removal has little, or nothing, to do with the community they are supposed to serve, it is only natural that they are preoccupied overwhelmingly with pleasing their bosses. In contrast to the people-friendly image of the central leadership, local cadres, as a collective, share a much less desirable reputation for their indifference to, if not disregard of, citizens.
Even for stability's sake, efforts must be made to restore the governments' credit record. The first step, however, is to put an end to public servants being alienated from public interest.
(China Daily 08/04/2009 page8)