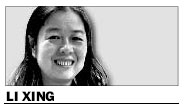 A recent ceremony at the Shanghai Library marked the completion of a comprehensive catalogue of genealogies of Chinese families.
The project traced the history of more than 600 surnames and compiled more than 50,000 family trees, covering people of all different ethnic groups, many of whom are now scattered around the world.
Despite its relevance to virtually every Chinese, the ceremony was completely ignored by television channels and was barely mentioned in the newspapers. To understand why, you must know a little about recent Chinese history.
Most people my age grew up in small families in cities, knowing little or nothing about their family history.
During the "cultural revolution", genealogy was considered feudal. People simply didn't talk about it. Many families were forced to burn their family archives. Others, like the family of a colleague of mine from Jiangxi province, buried their family records underground.
People my age knew very little about their families or their ancestral homes. When I was 7, my father took me to visit my grandmother and my aunt in his laojia in Hubei province. The trip took four days, by car and boat.
The journey was so difficult and politically sensitive that my father didn't even return home for my grandmother's funeral. But with the reforms and the passage of time, all that has changed. Since retiring from his job at age 67, my father has returned twice to the village where he was born and brought up. During these trips, he has visited his grandchildren, his nieces and nephews, even some distant cousins.
Now and then, he receives phone calls from members of his extended family and they talk about how everyone is doing. Still, something was amiss. Only recently did I discover that I was the problem. I had stayed away too long. I had not visited our ancestral home in more than 40 years!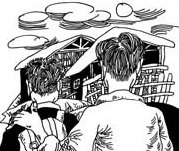 So I made plans for a homecoming visit, along with my husband and daughter. When I mentioned our plan to my father, he was overjoyed, blurting out what he had held back for years: "You mustn't forget your ancestry."
We set off early this month. We paid our respects to our ancestors at the family cemetery, and visited our extended family at their homes.
In their strong Hubei accents, family members regaled us with tales of the successes and failures, the triumphs and tragedies of our family.
Toward the end of our visit, my father's cousin presented me with a family genealogy. The history of our family had been lost in a severe flood in the 1930s. In order to recreate it, he had trekked from village to village, recovering the information from stone tablets. Ultimately, he was able to trace our ancestors back to the Qing dynasty in the 19th century.
My father's cousin is by no means the only elder interested in preserving his family history.
The descendents of Confucius, the Chinese philosopher and educator who lived between 551 and 479 BC, announced in April that they plan to publish an updated version of their genealogy in August.
The new version is said to contain some 2 million members, spanning more than 80 generations. Women will be included for the first time, as well as family members in South Korea.
My family's roots are more humble, but no less important to us. For a generation or two, these family histories were lost. Now, thanks to the efforts of researchers in Shanghai and amateur genealogists like my father's cousin, they are being recovered. Little by little, we are learning the myriad details of marriages, migrations, and family history that make us who we are.
As my father says, you mustn't forget your ancestry.
E-mail: lixing@chinadaily.com.cn
(China Daily 07/30/2009 page9)