Rallies, demonstrations and violence, the bloodiest since the 1979 Islamic revolution, have gripped Teheran ever since the Iranian election results were declared. Monday saw the worst clashes between supporters of President Mahmoud Ahmadinejad and his rival in the presidential race, Mir Hossein Mousavi, who refuses to accept defeat, which left seven people dead.
The international community is worried over the developments in Iran. But it has to have faith in the Iranian people to solve their problem peacefully. The Guardian Council, Iran's top legislature, has ruled out annulling the result, but it has agreed to a partial recount of the ballots.
Hopefully, the Iranian people will avoid spreading the violence and all parties will accept the results after the recounting of votes next week. The international community, on its part, has to leave Iran's internal problems to the Iranian people, and accept their verdict.
This is the best way the international community can deal with Iran now because it does not help to add fuel to the already burning issue.
Attempts to push the so-called color revolution toward chaos will prove very dangerous. A destabilized Iran is in no nobody's interest if we want to maintain peace and stability in the Middle East, and the world beyond.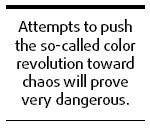 In his speech at Cairo University earlier this month, US President Barack Obama apologized for American Cold War intervention in Iran. US-Iranian relations have been troubled ever since, with US presidents trying to stick their nose into Iran's internal business.
On Tuesday Obama, after his meeting with the visiting South Korean President Lee Myung-bak, said it was not productive to meddle in Iranian elections given the history of US-Iranian ties.
The international community heaved a sigh of relief after Obama changed the US administration's confrontational policy toward Iran, and hopes US-Iranian ties improve and Teheran's nuclear issue is resolved peacefully. But now with Mousavi's supporters vowing to intensify their protests, it seems we have to wait longer for a peaceful solution to Iran's problems.
A pre-election public opinion poll conducted by the Washington Post showed Ahmadinejad had a 2:1 lead over his nearest rival. Some opinion polls in Iran were more or less similar. But he won the election on a lower margin. Thus, the opposition's allegations against Ahmadinejad come as a trifle surprising for some.
Win and loss are two sides of an election coin. Some candidates are less inclined to accept defeat.
But it is a tragedy that protests have turned violent claiming innocent lives. We hope supporters of both the presidential candidates accept the ballot recounting, and realize the importance of peace in building a strong and self-reliant society.
(China Daily 06/18/2009 page8)