The ongoing Shanghai Pride 2009, the largest festival of the gay and lesbian community on the Chinese mainland, is a good showcase of the country's social progress alongside the three decades of economic boom.
For long, most Chinese viewed the phenomenon of gays, lesbians, bisexuals and transsexuals as weird imports from the decadent West. Even though there is mention of homosexual practices in ancient Chinese dynasties and literature, it was not until 1997 that gay sex was decriminalized in China. And, it was only in 2001 that homosexual behavior was taken off the official list of mental disorders.
Compared to the 1980s and early 1990s - when most gays and lesbians had to meet covertly in toilets, public bathhouses, parks and bus stations - the situation has changed dramatically.
In the last decade, gay and lesbian organizations, websites, blogs and bars, teahouses and clubs have mushroomed, catering to an estimated 30 to 40 million homosexuals on the Chinese mainland. Books and movies on homosexuality are published and screened. At Shanghai's Fudan University, classes on homosexuality always draw a full house.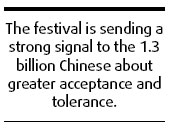 Surveys in recent years have shown growing public acceptance and tolerance of same sex relationships. About 91 of the 400 respondents polled in major cities agreed that homosexuals should have equal employment rights, while 80 percent said that heterosexuals and homosexuals should be treated as equal.
This kind of acceptance and tolerance, according to well-known sociologist Li Yinhe who conducted the study, was higher among the upper strata of white-collar workers.
Shanghai, as one of the most open and progressive Chinese cities, has displayed this acceptance and tolerance with its increasingly active gay and lesbian community and the week- long festival, Shanghai Pride 2009.
While the more tolerant public attitude is heartening, many in the country's homosexual community still face great pressure from society, their families and employers.
At times and in some places, local police still harass gays and lesbians. In the vast countryside, homosexuality is still very much a taboo and considered an affliction. This only means that there is much to be done by the government, the media and the general public to promote understanding, acceptance and respect of the rights of gays and lesbians.
Shanghai Pride 2009 should be a source of great encouragement to the tens of millions of "comrades", as homosexual men and women are called in the Chinese mainland.
Meanwhile, the festival, though bereft of the massive street parade that is a feature of gay and lesbian festivals elsewhere, is also sending a strong signal to the 1.3 billion Chinese about greater acceptance and tolerance.
The Shanghai festival is still relatively low-key and on a smaller scale compared with similar events abroad. Yet it is an event of profound significance for the country and the world.
(China Daily 06/10/2009 page8)