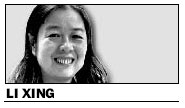 My husband's aunt, who lives in Hong Kong, hosted a family dinner in Beijing earlier this month and gave each family a reusable bag.
"This is my gift to you this year," she said.
Of course we were grateful, although my family has collected a dozen reusable grocery bags since June 1 last year, when China officially banned plastic bags thinner than 0.125mm and ordered markets to charge a fee for the use of standard plastic shopping bags.
For almost a year, we've made sure to bring our own bags when shopping for groceries. Meanwhile, we're running out of plastic bags, which are handy for disposing of garbage.
Most of our family members have switched to reusable bags, and we're not alone. The China Chain Store and Franchise Association reported last week that the use of plastic bags at supermarkets and retail stores has dropped by 66 percent nationwide. This means that some 40 billion plastic bags, or the equivalent of 1.6 million tons of crude oil, have been saved.
The ban forced a major plastic company in Henan province to close down, forcing 7,000 workers to find new jobs. Meanwhile, dozens of small family businesses producing ultra-thin plastic bags have sprung up, causing big plants that make standard plastic bags to lose money.
In Beijing, Shanghai, Guangzhou and other cities, sanitation workers have found that plastic waste has been diminished by about 20 percent.
But it is too early to become complacent.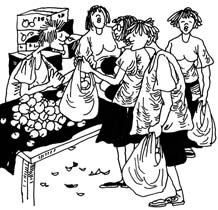 I've seen shoppers tear off several plastic bags at a time in the produce department at the Wu-Mart near my home. One of my colleagues saw a shopper tear off 10 plastic bags but only use three at the check-out counter, because these bags are still free.
Plastic bags, especially those ultra-thin ones you often see hanging on trees or littering back streets, still rule the day at wet markets across the country.
In Qingdao, a shopper holding several bags filled with food told a reporter it would be very troublesome if the market did not provide plastics bags. Peddlers, on the other hand, simply give away plastic bags, because "shoppers won't come to you if you charge them," according to one stall owner.
In fact, according to one recent survey, about 65 percent of stalls and small shops have defied the ban. Researchers found that more than 60 percent of shoppers will accept plastic bags if they are offered for free.
It's clear that government agencies have not done enough to make sure that the ban is fully implemented.
They have also not dealt with some unforeseen, negative effects of the ban. The study's most startling finding is that there has been a steady increase in excessive packaging of merchandise. Merchants now offer all kinds of elaborately printed paper bags and colorful polyester shopping bags, which consumers are only too glad to take home.
Apparently, people are not aware that many of these bags are made of plastic that is not degradable. Although paper bags are bio-degradable, making one kg of paper requires 40 percent more energy and causes 70 percent more CO2 emissions than making one kg of plastic.
Shoppers must not only reduce their use of disposable plastic bags, but should also learn to use bags frugally, no matter what they are made of. Meanwhile, the government should take the environmental impact of all forms of packaging into account and regulate the production of plastic bags more effectively.
Shop owners who circumvent the ban on plastic bags may fool the consumer, but they can't fool Mother Nature.
E-mail: lixing@chinadaily.com.cn
(China Daily 05/28/2009 page8)