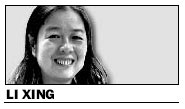 For several days before the May Day (Labor Day) weekend, local television featured a lot of scenic sites in the rural suburbs of Beijing.
There were enticing scenes of flowers in full bloom, strawberries ripening on the vine, green hills, and crystal-clear lakes and streams. Country folk were seen tidying up their houses and preparing an array of local dishes for urban tourists to enjoy.
Several of my colleagues were among the many who succumbed to the lure of an outing in the country over the long weekend. Unfortunately, some of them came back regretting that they'd made the trip.
On Saturday, one of them drove his family to Shentangyu, a mountainous nature reserve in Huairou county, about 60 km from downtown Beijing. It took them almost three hours to get there, including a half-hour wait at a tollgate. When they finally arrived at the nature reserve, it was full of people, so they went straight to a farmer's courtyard for lunch.
"We waited for one and a half hours before lunch was served," he told me ruefully. They finished lunch quickly and headed back, only to spend another three hours on the road home.
Six hours on the road may be a bit extreme, but many families trying to visit the countryside over the long weekend shared their frustration. Whether they live in Beijing, or Guiyang in Southwest China, or Suzhou in East China, these families spent a lot of their holiday weekend lined up at tollgates or crawling along the highways at a snail's pace. One family set off for Chaozhou from Guangzhou on Friday, but what is normally a four-hour drive turned into a nine-hour ordeal, according to a local media report.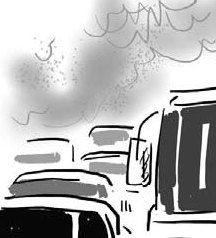 There is no reason to blame holiday-makers for all trying to visit the same places at the same time, even though police warned people to choose their time, route, and destination carefully so as to avoid the traffic. May Day is a perfect time for people to visit parks, nature reserves, and other scenic sites to enjoy springtime and the splendors of nature.
Nor is it realistic to prevent families from driving their own cars for a weekend outing. Many families have just bought their first car or moved up to a larger model, making China the world's largest market for private cars.
Weekend tourists are a boon to rural areas, which profit handsomely from their visits. However, even these economic benefits cannot justify the problems we face during a long weekend - traffic jams, increased pollution, and occasionally unruly travelers. According to my colleague and others, the backup on the narrow road leading to the Shentangyu nature reserve occurred because some drivers tried to overtake others by driving the wrong way. There was even a fight between some drivers.
I hope police, administrators, and managers of scenic sites will take these problems seriously. Although they occur only a few times a year, they are becoming a chronic headache.
These problems will only worsen as more families are able to buy a car of their own. At present, about 5 percent of Chinese families own a car, but this percentage seems certain to continue to rise.
Improving highways and enhancing management of roads and scenic sights is a first step. But the best way to limit the number of private cars on the road is to make scenic sites accessible by rail, as many cities in Europe have done. Improved public transportation will not only make it more convenient for people to travel, but also save fuel and protect the environment.
E-mail: lixing@chinadaily.com.cn