Why do we have to use our real names for an online blog or even for posting online an opinion piece? Is it for the protection of the interest of Internet users or for some other reason?
Last week Hangzhou municipal government adopted regulations, which require Internet portals under its administration to ask for the real identity of Internet users who register to blog or post opinions online starting from Saturday. This has aroused strong opposition from Internet users.
What most of them worry about is not just the inconvenience such an stipulation will bring about but the scenario that real name registration will make it possible for the relevant government department to know who has said what online about government decisions and leaders.
Consider the role Internet has played in the supervision of government work and the fight against corruption in recent years. It would have been impossible for the relocation of a chemical plant in the city of Xiamen without the online discussion about the possible pollution it may cause. And, neither would it have been possible for a corrupt official to be investigated had it not been for the online exposure of his taste for prohibitively expensive cigarettes.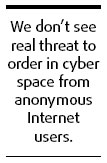 At the same time, some people had reportedly been persecuted for posting online their opinions against the actions of some local governments. A notable incident involved a young man who was detained by the police for posting information online, which exposed a local government's illegal occupation of farmland. And, his counterpart in another province was even sentenced to one year in jail for similar activity.
This means there are online watchdogs already doing policing. Therefore, we don't see real threat to order in cyber space from anonymous Internet users.
Instead, the use of libel by some local governments or some leaders as a weapon against free expression of opinions online has turned out to be a real threat to the role of Internet as an effective tool to check abuse of power.
Against this backdrop, it is understandable for some Internet users to interpret the regulations by the Hangzhou municipal government as a way to stop anonymous netizens from causing trouble to the government by posting unfavorable opinion.
Whatever the motivation for such a stipulation, the requirement to reveal real identity will undoubtedly prevent a number of users from expressing their opinions online for fear of being persecuted. This will substantially reduce the freedom Internet users enjoy in cyber space to express themselves on whatever issues they have an interest in.
When we have no effective measures in place to protect Internet users from being persecuted for airing their views online, it is unfair to require them to reveal their real names for doing so.
When the creation of a safer cyber space is most needed for Internet users to enjoy their freedom of expression, such a stipulation is clearly anachronistic.
(China Daily 05/04/2009 page4)