The biennial Shanghai Auto Show, which opens to the public today, will probably become the world's most influential auto exhibition this year, underscoring the faster-than-expected shift of the gravitational center of the world auto market toward China.
However, an unprecedented number of vehicle launches and great enthusiasm from global carmakers are not enough to distinguish this auto expo from others.
If this show is to secure a long-term lead in the global auto industry, it must make the most of its theme - The Art of Innovation - to blaze a green path for automakers at home and abroad.
The rapid rise of the Shanghai auto show from a marginal event only a few years ago to a key showcase and battleground for international automakers is truly remarkable.
The huge potential and significance of the Chinese market is all too obvious, as it becomes the only major growing car market amid a global economic turmoil that has placed the automotive industry flat on its back elsewhere.
At a time when sales in the US market have been plunging by close to 40 percent annually, carmakers can hardly afford to fall behind in the intensifying competition for Chinese consumers.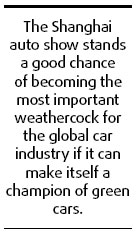 First-quarter vehicle sales in China grew by 3.8 percent year-on-year to 2.68 million units, enabling the country to outstrip the US as the world's biggest vehicle market. It is also estimated that the US will most likely sell 9 million vehicles this year, about one million fewer than China.
This forecast shows why international automakers must attach so much importance to the auto show in China's commercial capital.
Yet, the show's surge to the forefront will not last if it is mainly a result of deteriorating conditions in the US and other major markets.
The Shanghai auto show stands a good chance of becoming the most important weathercock for the global car industry if it can make itself a champion of green cars.
The still-low penetration of car ownership and the steady rise of income levels mean car sales in China will continue to go up in the coming years. But the huge population and environmental problems will make it impossible for the country to allow more gas-consuming and polluting vehicles on roads.
China's growing auto market will offer all carmakers an enormous opportunity to try state-of-the-art green technologies. The Shanghai auto show should become a clarion call for the greening of all automakers.
(China Daily 04/22/2009 page8)