The high, and rising, income of the leaders of State-owned enterprises (SOE) is an area of public concern that has been overlooked in the matter of adequate scrutiny, regulation and control. In the name of business needs and enterprise development, public money is known to be squandered on private luxuries and pleasures, such as buying limousines, enjoying golf in exotic destinations or holiday travel.
The ministries of finance and supervision and National Audit Office have stated that they will carry out a nationwide investigation into how SOE leaders stood to benefit personally from exorbitant spending. Based on the investigation, a supervisory mechanism is expected to be put in place for ensuring that such unchecked expenditure does not become a channel for SOE leaders to embezzle public funds.
Almost all SOE leaders who were found to be corrupt have wallowed in decadent luxury. The leader of one big SOE was reported to have spent as much as 10,000 yuan a day in a questionable manner.
What should be the annual income of SOE leaders has been debated for long but not resolved to public satisfaction. The income of some managers was revealed to be well above one million yuan, if not several million yuan. SOE leaders are different from private entrepreneurs. They are managing SOEs on behalf of the government and the people. There should be a limit to how much they get for their contribution to the development of SOEs.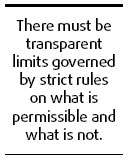 With the State Assets Supervision and Administration Commission (SASAC) tightening control over SOE leaders and setting caps on their annual income, every loophole needs to be plugged. It is necessary for SOE leaders to have their business expenses reimbursed. But there must be transparent limits governed by strict rules on what is permissible and what is not. As much as the people, workers in SOEs also have the right to know how the wealth created by their efforts is spent.
It is by no means being suggested that some SOE leaders are untrustworthy. Many of them are quite competent entrepreneurs. But, absolute power corrupts absolutely and no individual should be vested with absolute and unquestioned power over the management of an SOE.
It is one thing to grant them enough authority for allowing full play to their talent for the development of SOEs. And, it is another to have a sound supervisory mechanism in place in case they abuse their power, for even the most moral and incorruptible may be tempted when there are no checks and balances to contend with.
Therefore, it is most appropriate that the three concerned departments should now be engaged in an investigation that is long overdue; and, the conditions requiring the investigation should never have arisen in the first place.
The assertion of Li Rongrong, minister of SASAC, that the selection of SOE leaders, their income and their way of spending for business needs must be brought under tight supervision marks a significant progress for the healthy development of SOEs.
(China Daily 04/10/2009 page8)