A draft regulation on product recalls was recently published by the State Council to solicit public opinion. The move will surely help improve both the accountability of producers and assertiveness of consumers.
However, if the government is serious about measures to better protect consumers, such an effort to encourage the regulated recall of substandard products should come with more support for consumers to sue irresponsible producers.
Deterrent penalties will force companies to comply more than willingly with the product recall regulation. Otherwise, compulsory product recalls will either come too late for some consumers or be too difficult for the government to implement effectively.
As an international practice, a product recall is a request to return to the maker a batch or an entire production run of a product, usually due to the discovery of safety issues. The recall is an effort to limit liability for corporate negligence and to minimize damaging publicity.
A series of food safety scandals in recent years have shocked Chinese consumers and alerted people to the reality of loose food safety control in the country.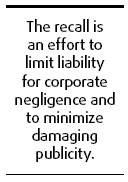 For instance, when Mengniu, a leading domestic diary company, was found in February to have violated the law to use a milk additive which is not yet listed as a legal food material, it refused to recall the offending product from the market in spite of a public outcry.
In the absence of a regulation on product recalls, this company could get away by putting its pursuit of profit ahead of the public's health concerns.
Only a few weeks later, China's top legislature approved the Food Safety Law to provide a legal basis for the government to strengthen food safety control "from the production line to the dining table".
The belated legislation -- to enhance monitoring and supervision, tighten safety standards, recall substandard products and severely punish offenders -- is more than needed, but it will not take effect until June 1.
It is encouraging though that the new draft regulation on product recalls will further extend consumer protection to cover all products except medicines and military products.
As the country is moving away from excess dependence on investment and export for growth, it becomes all too obvious that a sound consumption environment is a prerequisite for boosting domestic demand and driving both spending and growth.
It is only to be hoped that while the government is stepping up its regulatory role, consumers can also be significantly empowered to defend their interests against those companies unwilling to replace the recalled product or pay damages caused as a result of its use.
(China Daily 04/10/2009 page8)