The G20 summit which concluded yesterday has resulted in broadening the scope of tasks to be undertaken by the most powerful economies in the world compared with a similar meeting in November last year.
Leaders of member economies came to the London summit with an "extraordinary convergence", as US President Barack Obama put it, to fight the global financial crisis.
The joint communique released yesterday afternoon does reflect the expectations of President Hu Jintao, who stated before embarking on his trip that member countries should adopt a forward-looking attitude in promoting their shared interests and those of all members of the international community.
If, as British Prime Minister Gordon Brown announced at the closing press conference, member countries meet later this year to take stock of the tasks agreed upon, it could mark the beginning of the G20 serving as a new global co-management mechanism.
Despite reports of differences between countries and their different agendas, no one can question the sense of urgency reflected in the communiqu - the need to prevent the global economy from slipping further.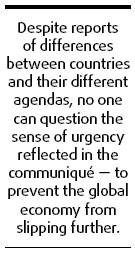 There was not only a shared determination, but more importantly, a final document that was able to accommodate all the key tasks that different countries have emphasized.
There must be more international efforts, on the basis of what has been agreed, to effectively shorten the crisis.
Indeed, the member countries agreed to make efforts to shorten the current downturn, and to prevent a repeat of the chaos of the Great Depression, which played havoc on the global markets from 1929 to 1945.
Member countries have also agreed that, to restore and maintain order in the global market place, they will seek to:
Reform the global banking system, including installing a better, more effective regulatory mechanism;
Clean up the banks, particularly those in the US and UK, quickly;
Hasten economic recovery through more stimulus inputs, which will amount to $5 trillion by the end of 2010;
Provide more resources to the International Monetary Fund (IMF) and other financial institutions;
Reject protectionism while boosting trade financing;
Provide more help to the poor and poor countries; and
Strive, whenever and wherever possible, for a low-carbon recovery, or a recovery that should lead to lowering the environmental hazards of economic development.
Such is the consensus of the London G20 summit. It is based on a set of highly necessary but also mutually accommodating working principles, of the sort that would have been unthinkable just a few years ago, as unilateralism seemed to be the dominating theme in international relations.
Indeed, progress can be made when leaders are more willing to listen, more concerned with the world's long-term issues, and more occupied with finding solutions instead of allocating blame.
(China Daily 04/03/2009 page8)