It is a common agreement among Chinese scholars that the new US administration will carry forward the established bilateral framework and have a shorter transition and run-in period than its predecessors in dealing with China. But it is also believed that problems will be there to plague bilateral relations, although the groundwork of the ties will not be rocked.
As the new US administration takes office, the two countries face an urgent challenge of finding out how to defuse the potential crises in bilateral relations and put them onto a track of normal and smooth development
Economic and trade issues will prove thorny ones. In the context of a gloomy economic environment at home and abroad, the Barack Obama administration will undoubtedly take measures to rescue the plummeting stock market, expand employment and improve people's livelihood.
The Chinese government is also busy with handling a range of issues, from finding employment for graduates to avoiding instability brought by laid-off migrant workers' return home. It is also struggling to spur the economy, maintain an expected growth target and expand domestic demand.
The two governments' focus on domestic issues will unavoidably hinder elasticity and flexibility in their foreign policies. Also, the high expectations Obama's team has pinned on China, if not satisfied, will possibly detonate the fuse of bilateral frictions or confrontation. The new administration expects China to continue buying US treasury bonds, increase investment in the International Monetary Fund and strengthen coordination with the US side on the reform of the two countries' financial systems.
Out of its own political and economic considerations, China, however, is unlikely to meet all these expectations. Representing the interests of ordinary people, manufacturing and hi-tech sectors and trade unions, Obama's Democratic administration is expected to value opinions of these groups, which expected their interests to have been better protected in the trade with China.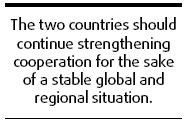 Disappointed with the Sino-US Strategic Economic Dialogue's failure to force China into concessions and dissatisfied with the Bush administration's excessive representation of the interest of domestic financial tycoons and monopolistic enterprises, these interest groups will possibly exert more pressures on the new administration.
It is thus expected China's currency exchange rate, product quality, intellectual property rights and opening of its financial market would top Obama's agenda. Also, China's new labor standard might offer a new topic for the US administration to extend pressures.
Diplomacy will also be on top of the agenda of the Obama administration. American troops withdrawal from Iraq and its military reinforcement in Afghanistan are expected to be a top issue. At the same time, how to rebuild its relations with Europe and Russia and how to handle the nuclear issues on the Korean Peninsula and in Iran will also remain outstanding tasks.
All these issues need a constructive role from China for their smooth settlement. To what extent China can share such diplomatic and economic woes of the US will be taken as a touchstone of long-term Sino-US relationship.
Preoccupied with such concerns, the new US administration will possibly urge China to send troops and donate to Afghanistan, and play a crucial role in the Pakistani issue. However, asking for China's larger cooperation on these issues does not mean the US will stop criticizing the former on sensitive issues such as Sudan, Zimbabwe, and Myanmar.
The Tibet issue and the Taiwan question still remain intractable for the bilateral ties. The Democratic Party has long shown a particular interest in the Tibet issue. As early as in 1997, the then Clinton administration appointed the country's first special Tibet coordinator. House Speaker Nancy Pelosi has also given consistent support to the Dalai Lama. Also, several of Obama's Asian affairs consultants have set up good private ties with the Dalai Lama clique.
These have sowed the seeds for renewed tension between the two countries. The Taiwan question has posed a decreasing risk to bilateral ties. However, Washington's unwavering arms sales to Taiwan and its support of a larger role for the island in international affairs still pose enough uncertainty to complicate the ties.
The new US administration will not soften its long-held tough stance toward China on human rights and ideological issues. With the mission of reestablishing the US hegemonic position and regaining its tainted international image, Obama will remain unwavering in safeguarding the US political system, its development model and values.
China and the US should make joint efforts to prevent potential problems from hijacking bilateral ties. Both sides should strengthen financial cooperation to remove the issues that hamper a smooth Sino-US economic and trade cooperation.
China should continue to take workable measures to stabilize its domestic financial market, maintain economic growth and promote the change of its economic development model. Also, it is of vital importance for the nation to strengthen constructive cooperation and coordination with the world's largest economy in order to rebuild the international financial system.
For the US' part, it should keep reason and patience on China's exchange rate and bilateral trade imbalance and be open-minded about its high-tech export to China.
Also, the two countries should continue strengthening cooperation for the sake of a stable global and regional situation. China will continue to be committed to its cooperation with the US on the Korean and Iran nuclear issues and on anti-terrorism strategies. It will play a constructive role in easing regional situations ranging from Afghanistan to Pakistan and Myanmar. The US should look upon China's relations with relevant nations in responsible and positive ways.
On the Tibet issue and the Taiwan question, the US should avoid intervention in China's internal affairs.
The author is director of the Institute of American Studies with the China Institute of Contemporary International Relations
(China Daily 01/21/2009 page8)