Not long ago, an American friend told me an interesting story about China. He said an American could write a book after returning from a weeklong trip to the East Asian nation but could only write a brief article after a three-month stay.
No single word, however, could be written after staying in the country a year, he said. That is because things in the booming ancient nation are much too complicated.
He is indeed correct. It is also why I have come to the United States to communicate with all of you.
There is no doubt the astonishing achievements made by China since its initiation of the historical reform and opening up policy in 1978 are worth eulogizing.
Over the past 30 years, the country's gross domestic product (GDP) has achieved 9.8 percent growth year on year, and the people's living standards have been substantively improved.
Thirty years ago, bicycles were the main means of transportation for Chinese urban residents and telephones were a luxury, but now private cars have become common, and one in every two people possesses a cell phone.
Thirty years ago, about 250 million Chinese people lived in sheer poverty. This figure was reduced to 15 million by the end of last year, only 1.1 percent of its population.
The country has basically solved the problem of food and clothing for its people and succeeded in building a moderately prosperous society.
Its human rights efforts have also been improved remarkably nationwide.
I still remember the home of one of my friends on the outskirts of Beijing at which I stayed for a period of time in the 1960s when I was at university. His home was rather sparsely furnished, and the family's meals consisted mainly of corn bread and vegetables. Today, he has color TV, a cell phone, a car and other luxury items, and the family is living a good life.
People who have visited Beijing know that today you can hear discussions on taxi cabs on political issues, and those taking part are free to do so.
Columnist Nicholas D. Kristof wrote in the New York Times on Aug 24, about the Chinese Internet and sensitive political issues.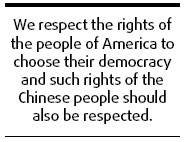 The freedom enjoyed by foreign journalists covering the Sichuan earthquake and the Beijing Olympics and Paralympics demonstrated the progress the country has made on human rights issues over the past three decades.
In their pursuit of a better life, the Chinese people are also well aware that we are still a developing country. We have yet to solve a series of thorny issues on our way to modernization, such as how to slow population growth, further narrow the urban-rural divide, and how to set up a social security, education and medical system covering the whole population.
The Chinese people are committed to building a democratic, just, vigorous and orderly society in which people can coexist with nature harmoniously.
A discussion between late Chairman Mao Zedong and my grandfather Huang Yanpei in a cave in Yan'an, the headquarters of the CPC revolution before the new China was founded in 1945, is well known to many people. My grandfather asked Mao how the new Party would not repeat the old model of a Chinese regime from birth to prosperity.
"Democracy", Mao answered.
A democratic society has been a consistent goal pursued by the Chinese people in modern times. A democratic path with Chinese characteristics has been already chartered.
China has adopted a CPC-led multi-party cooperation and political consultation system and the National People's Congress system.
As the ruling party, the CPC is in close and interactive consultations with other participating democratic parties and social groups on major political, economic and social issues before any decisions are made.
Last year, President Hu Jintao and Premier Wen Jiabao participated in 18 such consultations. Not long ago, President Hu chaired a meeting with delegates from the All-China Federation of Industry and Commerce, a component of the Chinese People's Political Consultative Conference, on rural construction and development. As head of the group, I recommended to the president that the government should pump more funds into rural areas to help farmers and reduce poverty in the vast underdeveloped areas. My recommendation was later accepted.
Earlier this year, I proposed to Premier Wen that the central government take into consideration the interests of small- and medium-sized enterprises while adopting a tight monetary policy. The proposal was also incorporated into the government's credit policy.
According to a survey conducted by the US PEW Research Center, 86 percent of Chinese people feel satisfied with the directions of China's development, ranking it No 1 in the world. That demonstrates the confidence of the Chinese people in socialism with Chinese characteristics.
The current world is a colorful and diversified one. We respect the rights of the people of America to choose their democracy and such rights of the Chinese people should also be respected.
The extent of democracy, freedom and opening up China has achieved was unimaginable 30 years ago, and it will not slow our efforts to improve our human rights situations.
The Chinese government is now actively drafting a blueprint for human rights reform. It will further enhance the development of the country's human rights.
The author is vice-chairman of the Standing Committee of the Chinese People's Political Consultative Conference and chairman of the board of directors of the China Foundation for Human Rights Development. The article is an excerpt of his speech at Harvard University on Nov 24.
(China Daily 12/19/2008 page8)