The Group of Twenty (G20) summit on financial markets and the world economy held in Washington marked an important first step toward restoring global growth and achieving needed reforms in the world's financial systems.
Expectations about the summit's outcome had been understandably tempered due to the severity of the global financial crisis.
However, the consensus G20 leaders reached on the urgency to take strong actions and conduct significant reforms does give a huge and much-needed boost to our confidence to effectively stave off a deep global recession.
Chinese president Hu Jintao not only called for concerted efforts to restore confidence and stop the spread of the financial crisis but also stressed the need for a comprehensive, balanced, incremental and result-oriented reform of the international financial system.
The call highlighted China's willingness to take an active part in the cooperation to address the challenge the world faces.
China has been trying hard to maintain steady and relatively fast economic expansion to provide the world with a key source of growth.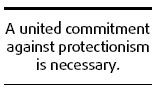 It is more than obvious now that in an increasingly globalized world, stability of the world financial markets and sustained growth of the global economy are crucial to the well-being of all countries and people.
Over the past months, many countries have taken urgent and exceptional measures to support the global economy and stabilize financial markets. But more needs to be done as the growth momentum is slowing substantially in major economies and the global growth outlook has weakened.
While developed economies, as a whole, are projected to contract next year, many emerging market economies increasingly are being adversely affected by the worldwide slowdown.
Under such circumstances, it is likely that some countries may resort to protectionism to ease domestic economic woes, a solution definitely much worse than the problem itself.
Hence, a united commitment against protectionism is necessary if a concerted macroeconomic policy response to support growth is to work worldwide.
The declaration of the summit is a timely reminder of the critical importance of rejecting protectionism.
More important, it also sends a reassuring message that the G20 leaders shall strive to reach an agreement this year on modalities that lead to a successful conclusion to the WTO's Doha Development Agenda with an ambitious and balanced outcome.
At a time when the worst financial crisis in many decades is undermining our progress on economic growth and poverty reduction, the need for a thorough overhaul of the international financial system is self-evident. The reform should make the international financial order fair, just, inclusive and orderly.
Yet, no less important is the task to promote free and fair trade that has underpinned sound growth of the real economy around the world. The united front that G20 leaders present should also be made full use of to advance our goal of sustainable and common prosperity.
(China Daily 11/17/2008 page4)