The US government has eaten its words again. By going back on its own promises, it is endangering China's national security and even affecting the peaceful development of cross-Straits relations, which have seen improvements over the past few months.
It will also exert adverse effect upon the Sino-US relations.
On Friday, the Bush administration notified the Congress that it plans to sell weapons worth $6.4 billion to Taiwan. In the catalogue is Patriot III anti-missile system, E-2T airborne early warning aircraft upgrade system, Apache helicopters and other equipment.
The proposed arms sales to Taiwan, rendered in a rush and lack of debate, are a severe violation of the principles set in the three joint communiques between China and the United States, especially the communique on the US arms sales to Taiwan signed on Aug 17, 1982.
True enough, the US arms sale to Taiwan is an issue rooted in history. But its complexity did not stop the two governments from pledging then to make every effort to adopt measures and create conditions conducive to its thorough settlement.
According to paragraph 6 of the 1982 communique, "the United States states that it does not seek to carry out a long-term policy of arms sales to Taiwan, that its arms sales to Taiwan will not exceed, either in qualitative or in quantitative terms, the level of those supplied in recent years since the establishment of diplomatic relations between the US and China, and that it intends to reduce gradually its sales of arms to Taiwan, leading over a period of time to a final resolution. In so stating, the US acknowledges China's consistent position regarding the thorough settlement of this issue."
However, the US has been running in the opposite direction.
Shortly after the Bush administration took office in 2001, it approved the sale of some of the most sophisticated weaponry ever extended to Taiwan.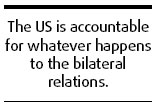 It is not a secret that the largest beneficiary from the arms sales will be US arms dealers and not the "democracy" and security of Taiwan.
The US State Department has sponsored the sale through its appointment earlier this year of former Under-Secretary of Defense, Paul Wolfowitz, to the State Department's International Security Advisory Board. Wolfowitz is also Chairman of the US-Taiwan Business Council, which includes a number of US military contractors as members.
Meanwhile, the arms sales to the island will whip up tension between the two sides of the Straits and disturb the efforts to maintain peace and stability and foster development across the Straits.
China's Defense Ministry is right in declaring that it has to reserve the right to react.
The Bush administration might jump to the decision, assuming to undertake no responsibility for its consequences. It is to go in less than three months.
Its rash act makes the US accountable for whatever happens to the bilateral relations between China and the United States.
(China Daily 10/06/2008 page4)