By Brendan J. Worrell (chinadaily.com.cn)
Updated: 2008-09-16 14:06
Arriving into Xi'an in winter 2004, I heard my host boast how there was only one McDonalds in the whole city. Perhaps thinking I was now desperate for western food like some Pavlovian poodle, I was then rushed to a KFC, which I was told was much more popular here in China.
I quietly assumed it was because brand KFC was colored red like the flag of the People's Republic of China. Why even the good old Colonel Sanders himself looked a little Chinese with his graying goatee beard emanating that Confucius character type. Plus every simpleton knows Chinese love chicken.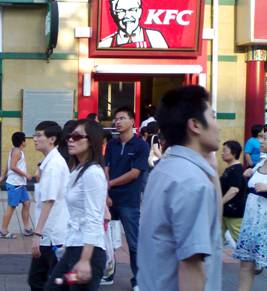 The ever ubiquitous kungfu chicken. In Wanfujing one finds 3 outlets. Nationally, every 3 and half days a new outlet opens
Compared to and placed alongside the frizzy, ginger haired Ronald McDonald and his 'golden arches' which are so readily associated with the 'Great Satan' and all things cowboy and beef burgerly' – the cultural resistance towards the latter brand was easy to comprehend.

Well on Friday morning just past at the Cheung Kong Graduate School of Business in Beijing, Warren K. Liu talked about his recent book, "KFC in China, secret recipe for success" and it seems there was more to it than just Ronald's repulsive striped socks.

Follow the facts;

On November 12 1987, the first KFC restaurant, near Tian'anmen was opened, "an American brand, representing American capitalism and American imperialism", placed right in the heart of China's political sphere.
This action according to Liu, "expressed the full wisdom of the management team of KFC and perhaps more impressively, the courage behind the political decision makers of the central government and certainly the city of Beijing".
Fast forward and two decades later, KFC last November celebrated the opening of its 2000th restaurant, an average of about one new KFC outlet opening in China every three and a half days. And the rate Liu reveals is getting quicker.
Today there are more than 2,200 KFC restaurants in China and according to Liu he wouldn't be surprised if in a few years 400/500 new KFC outlets are opening annually.
As for the big M, while still being the world's fast food leader, here in China they are really just starting to find their stride with a nationwide total around 900.
All great news for any budding health club operator, wishing to milk the growing trend of obesity in China, but back to the story...
According to F. Warren McFarlan, a Professor at the Harvard Business School, what KFC has achieved is "one of America's greatest success stories in China".
At the end of 2007, KFC China generated almost US$2 billion in revenue, accounting for 24% of Yum Brands corporate earnings. They estimate that in 10 years time it will be 40% - though Liu thinks that is a gross understatement.
He hasn't heard of any US corporation generating that type of profit from outside their home market furthermore he notes the cash payback for Yum brands was less than two years, making a very good return on investment after 21 years in the China market.
For proponents of trade protectionism admonishing the China threat abroad, it's a good example that highlights how foreign companies also serve to prosper out of China's rise.
As for Taiwan-born Liu, he played a role in those formative years of KFC China, from 1997 - 2000 as the VP of business development and now he's communicating what he's learnt to local Chinese business folk in an attempt to help leverage them into the global market place.
He stressed that for the last decade the Chinese government had been encouraging domestic companies to get out there and make their mark on the international stage though he said the results were so far less than exemplary.
As for this morning it was more than just an insight into how a fast food franchise from abroad captured the Chinese market; it was also a polished performance from a public speaker who held the floor for over an hour without referring to any notes, powerpoint presentations or other common stand up gimmicks.
In many respects it was a lesson for any budding public speaker on how to captivate your audience, by knowing your material, by speaking to the audience directly, by opening up to questions ASAP and by insisting on common language to communicate complex business/finance jargon to a mainstream media audience.
Furthermore for Liu, every question was a "good question" highlighting his admitted passion for education. Just the other day he was speaking to an MBA freshman class out at the nation's top Tsinghua University.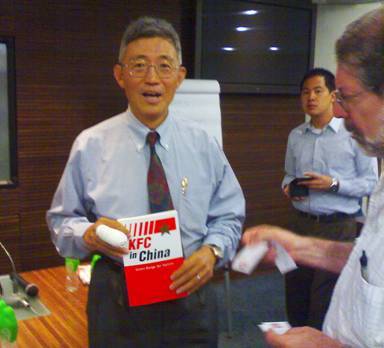 "My primary motivation for having written the book is really to help local Chinese enterprises, particularly large and medium sized companies, who have ambitions to go abroad."
Rather than spill the beans here and reveal the secret recipe for success, I'll leave that up to readers to find out.
The book will hit the shelves in the coming weeks and be available in both English and Chinese versions.

E-mail: brendanjohnworrell@hotmail.com