Is Beijing's air quality still a concern? Some people seem to have underestimated the host city's capability to keep its promise of clearing up its air for the Olympic Games.
Monitoring results show that the city's air quality has reached the required standards in every single day over the past three weeks although it looked misty on some days because of too much moisture in the air and low air pressure.
The blue sky and white clouds for most of the Games' days were irrefutable evidence that the rhetoric about the host city's ability to honor its promise of clearing up its air for the Games was largely motivated. And some athletes were even advised to wear air masks, which have been proved to be a piece of useless advice.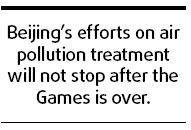 To improve its air quality, Beijing has moved its largest enterprise, Shougang Group, the iron and steel works, out of the city. It has upgraded its requirements for motor vehicle exhaust emissions several times in the past couple of years to reduce the amount of exhaust from cars.
Industrial enterprises were required to upgrade their pollutant treatment facilities to reduce the amount of sulphur dioxide and other pollutants they emit, and some enterprises were even closed because of their obsolete production equipment.
Beijing has also asked for cooperation from its surrounding provinces and cities, whose emission of pollutants also has an impact on its air quality. As a result, enterprises in these areas were also required to do something to reduce the amount of pollutants they emit in their production.
In reality, the Olympic Games has become a catalyst to environmental protection and air pollution control in Beijing and its surrounding regions.
Of course, Beijing has adopted some provisional measures such as reducing the number of cars on the road through placing restrictions on their use every other day according to the last digit of their number plate.
Beijing's efforts on air pollution treatment will not stop after the Olympic Games is over. The measures it has taken and what it has achieved during the Games will be great wealth for further efforts in this regard.
Residents who have enjoyed much more convenient traffic and clearer air during the Games will be undoubtedly more aware of the importance of environmental protection and air pollution control. This will be an intangible legacy from the Games that will help Beijing move further in this direction.
(China Daily 08/22/2008 page10)