For Australians and New Zealanders April 25th is ANZAC day.
Banks, post offices, shops and schools are closed to pay homage to the ANZAC - Australian and New Zealand Army Corps.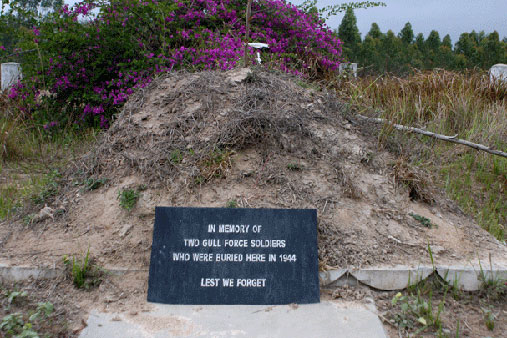 The tended grave of the two Australian soldiers who were taken in by local Lao Ou villagers. [chinadaily.com.cn/by Brendan John Worrell]
On this day 93 years ago during the First World War troops from these two fledging nations landed at Gallipoli, Turkey in order to support a wider British offensive meant to take control of Constantinople, modern day Istanbul.
It was a costly and long drawn out battle that incurred thousands of casualties on both sides.
Over time ANZAC Day incorporated memorial services for all servicemen and women who fought for their country, be it the first, second, Korean, Vietnam and/or Iraq wars, as well as East Timor and Afghanistan operations.
Today April 25th now compels people to reflect on how lucky they are to live during relatively peaceful times, while others elsewhere may be still engaged in fighting.
Thousands of Australians and New Zealanders will have attended dawn services this morning. They mark their sacrifice and reflect on their history, perhaps pondering how nations and people change over time.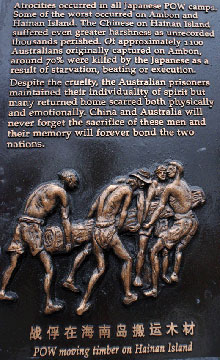 The memorial plaque depicting the ANZAC's who lost their lives on Hainan during the Second World War located at Lao Ou village, Dongfang. [chinadaily.com.cn/by Brendan John Worrell]
More importantly, this holiday compels citizens to challenge old animosities and prejudice.
We are pushed to look to the future, toward more peaceful possibilities.
Any contemporary New Zealand senior citizen would never have imagined that his country would have been the first western nation to secure a free trade agreement with China: this is one example of just how far the world has changed. Even more astonishing is the fact that New Zealand's traditionally male dominated landscape has a female Prime Minister brokering the deal.
Their Australian neighbors in years past would also have rejected the idea that they would one day have a Prime Minister fluent in Chinese advocating that their children study Asian languages. Kevin Rudd is certainly a maverick, considering that his political party, Labor, had for decades attracted popular support via its negative promotion of the "Yellow Peril and White Australia Policy".
Similarly, here in China, we watch as President Hu Jintao plans to visit Japan next month. This will be the first visit from a Chinese leader in a decade – bringing hope and a positive role model to those who seek a more peaceful advance in relations between the two previously hostile nations.
Today Tokyo also welcomes the arrival of the Olympic Torch for the Beijing games.
On Wednesday the Institute for International Policy Studies in Japan proposed both countries try and follow the example set by France and Germany and jointly make history textbooks to close the gaps over certain contentious issues.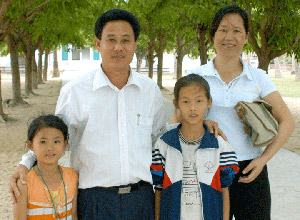 Principal Gao at the Lao Ou Elementary school stands alongside two young students accompanied by Madam Fu from the Dongfang Foreign Affaris Office, Hainan. [Agencies]
This week in Australia there is talk of raising a Japanese battleship, Montevideo Maru, sunk by an American submarine in 1942. At that time the Japanese were transporting over 1,053 Australian soldiers and civilians to Hainan Island.
Accidentally torpedoed by the Americans, they all drowned at sea in what became Australia's biggest maritime disaster.
These prisoners on board were expected to join other Australians and Dutch soldiers who had earlier been captured by the Japanese in the Dutch East Indies, now modern day Indonesia.
These unlucky souls were sent to Hainan with other captured British, American and Indian soldiers to work on building a railway from Dongfang to Sanya. Some were setting up port facilities at the nearby harbor alongside local conscripted Chinese labor where an estimated 20,000 perished.
Today there is a monument in Basuo dedicated to the Chinese dead; nearby in the local Lao Ou village stands a memorial for Australians who lost their lives on Hainan Island.
A story is told of two Australians who escaped the Japanese prison camp and were helped by local villagers. Though they eventually died from illness locals tended their gravesite. The compassion shown by Chinese locals 66 years earlier has served as a bridge connecting people from Australia with this remote Hainan village up to this day.
The Darwin City Council has endeavored to assist where possible the continuing development of Lao Ou village, through prospective relationships with the local primary school, donations of sporting equipment and clothing and a proposal to assist in funding contributions towards the sealing of a road towards the memorial.
Now, today we are reminded to reflect on the past, plan and commit towards a brighter, peaceful future.
This can only help us to imagine and try to replicate in our own present lives the kindness of those Lao Ou villagers. Their compassion caused them to embrace 2 strange foreigners who couldn't speak their language - and must have looked and smelt terrible.
They risked their lives to lend a hand and the world is still becoming a better place for it.

E-mail: brendanjohnworrell@hotmail.com