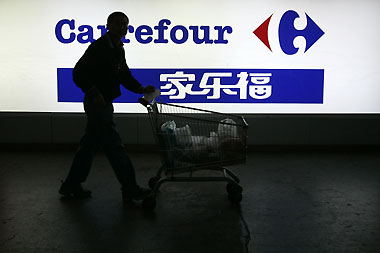 A customer walks past a Carrefour sign in Shanghai April 15, 2008. Chinese Internet users are calling on consumers to boycott Carrefour, the French retail giant they accuse of supporting pro-Tibetan independence groups seeking to disrupt this year's Beijing Olympics. [Agencies]
PARIS - LVMH has so far not been affected by any boycott of its products in China, the head of the French luxury group said in an interview, denying accusations by Chinese Internet users that it supported Dalai Lama.
"I categorically deny the allegations made against us on these blogs about the support that we would have given to this or that political or religious cause," LVMH Chief Executive Bernard Arnault told Le Figaro in an interview published on the French daily's website late on Wednesday.
Earlier this week, Chinese people were urged through text messages and online chat rooms not to buy goods from French retailer Carrefour's outlets from May 1, with posts accusing the company of supporting funding for the Dalai Lama.
Carrefour is 10.7 percent owned by Blue Capital, a holding company owned by property group Colony Capital and Arnault.
Some supporters of the boycott have also said that LVMH "donated a lot of money to the Dalai Lama."
"This is absolutely groundless," Arnault said.
"Even if one can be shocked by what's happening in Tibet autonomous region, it is equally shocking to see attacks against China," Arnault told Le Figaro. "China has made immense progress in 20 years, in its economic development and its opening to the world.
"China needs time. If we want to dialogue with it, there are better things to do than attack the Olympic torch when it goes through Western cities," the French billionaire added, referring to disruptions to the torch relay in London and Paris earlier this month.
Arnault said LVMH, which sells Louis Vuitton luxury handbags and whose operations also range from fine wines and Moet champagne to perfumes, has not been affected by any boycott so far.
Economic Slowdown
Asked about risks that the US economic slowdown could hurt growth in China, Arnault said: "We think, from what our experts tell us, that growth should resume by the end of the year. Will this impact emerging countries, Europe, Asia?
"Probably but in a limited way. If Chinese growth falls from 10 percent to 8 percent, this will be surmountable and China will continue to lift the world's economy."
Arnault also cited the steps LVMH was taking to reduce the impact of a weakening dollar against the euro, as the single currency rose to $1.5977 against the dollar on Wednesday.
"We have hedged (our foreign exchange exposure) for this year and part of next year at far better conditions than we did last year," Arnault said. "We also have a policy of systematically increasing prices on our products in concerned markets, the United States and Japan."
Arnault ruled out, at least for now, moving its production facilities outside of Europe.
"At this stage, no," he said. "We manage to improve the productivity in our workshops, certainly not as quickly as the dollar falls, but in a way that allows us to maintain this model."