"Keep smiling," the girl in wheelchair told herself despite the risk of Tibetan separatists trying to grab the Olympic torch.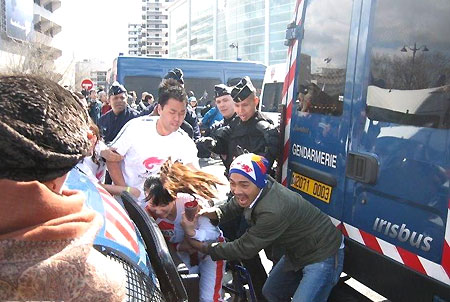 A protestor (R) tries to grab Olympic torch from Jin Jing, a Paralympian torchbearer in wheelchair, during the torch relay in Paris in April 7, 2008. Jin, who lost a leg because of 

tumour at age of nine, tries to protect the flame with her body while the man behind the wheelchair, also a Paralympian who lost his eysight, found it very hard to fend off assaults during the relay. [Tianya.cn] 

 


Torchbearer Jin Jing, a physically challenged athlete, moved netizens as she protected the torch in her arms to resist violent protestors' disruptions during the Beijing Olympic torch relay in Paris on April 7.
Jin was designated to relay the torch along the Seine River, a kilometer away from the originally planned route due to the aggressiveness of the Tibetan separatists.
"Along the Seine River, at first one person tried to take the torch from me. Then further down the route other people hit me and also tried to snatch the torch," Jin told sohu.com during an interview two days after the event.

"I managed to protect the torch with my body. At times the protestors got so close that I had to bow my head down and clutch the torch tighter to prevent them from getting at it."
"They even pulled my hair," Jin told sohu.com reporters, adding her chin was hurt during the heated physical confrontations.