The draft of the country's law on food safety was published on Sunday to solicit public opinion before it is submitted to the Standing Committee of the National People's Congress for deliberation.
With the recall of some exported food and the growing concern for the contamination of aquatic products in the past year, revisions of the 13-year-old legal code, that was called Law on Food Sanitation, certainly mean a great deal to the health of the food market.
Safety standards for food have long been a problem. It is not only because the standards are not strict or scientific enough but also because we have different standards for the same food.
When a dehydrated vegetable was confirmed to have been contaminated by sulfur dioxide in 2004, the root cause was found to be the different standards stipulated by the Ministry of Health and the Ministry of Agriculture. The former required that this vegetable should never contain sulfur dioxide, while the latter stipulated that every kilo of it containing 2 grams of sulfur dioxide should be accepted as up to the standard.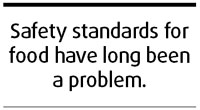 The draft clarifies only two standards for food, the State and local ones, and the latter must be stricter than the former. But it still fails to have strict stipulations on how the standards should be made and which department should be entitled to make them.
The heavier penalties should be the just desserts for unsafe or substandard food producers and sellers. But the compensation, which is 10 times the value of food sold to customers who suffer from eating the food, is apparently not heavy enough to deter food stores from selling low-quality food. And neither are the fines of 20 times the value of poor quality food imposed on producers.
The penalties prescribed for unsafe or poor quality food producers and sellers are indeed heavier than what the old version of the law stipulated. But it is not difficult to fathom that those who have drafted these stipulations still consider the matter of food safety as only a concern of whether the food is sanitary enough to eat. Production or sale of low-quality food needs to be considered an infringement on the basic right of customers.
We cannot say for sure how heavy the fines or compensations should be. But the penalties should be heavy enough to let producers and sellers know what they produce and sell is of significance to the health of their customers and that they have to pay the price for any negligence and wrongdoing in this matter.
Fortunately, anyone can give their opinions on the draft by writing letters to the NPC or the local people's congresses or log on to the NPC website to leave their views. Hopefully, views of the general public will improve the draft before it is discussed in the NPC Standing Committee session.
(China Daily 04/23/2008 page8)